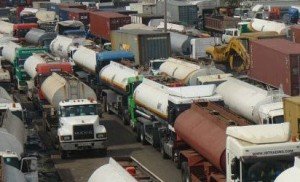 Striking Gas Tanker Drivers Resume Work in Ghana

Suppliers of Liquefied Petroleum Gas, LPG, is expected to resume fully following the resumption of work by Members of the Gas Tanker Drivers Union.
This comes after the Ministry of Employment and Labour Relations held a crunch meeting with the leadership of some groups within the country's downstream petroleum sector to resolve the issues around the sit-down strike by the Gas Tanker Drivers Union.
The acute shortage of LPG experienced in some parts of Greater Accra, Western and Central Regions had left consumers stranded.
[Also Read] Gas Shortage hits Ghana
It will be recalled that members of the Gas Tanker Drivers Union laid down their tools on October 29, 2020, thus causing a severe shortage of LPG at the various filling stations.
The situation had left consumers who depend on LPG for domestic, commercial and industrial purposes stranded.
In a press release dated Sunday, November 1, 2020, and signed by the leadership of the General Transport Petroleum and Chemical Workers Union (GTPCWU), Ghana National Petroleum Tanker Drivers Union (GNPTDU), Gas Tanker Drivers Union (GTDU) and the Deputy Minister for Employment and Labour Relations, Mr Bright Wireko-Brobby, noted that the gas tanker drivers have resumed work with immediate effect "as government takes steps to resolve the matter with all the urgency that it deserves.
[Also Read] Ghana: Tullow Resumes Exports From Jubilee Field
"While the Hon. Minister of Employment is grateful to the workers for accepting to go to work, we urge all stakeholders to stay calm until the matter is conclusively resolved in the shortest possible time," the statement added.
The people had groaned over the hardship that became their lot as the LPG shortage lasted. Some residents and taxi drivers in Sekondi-Takoradie subsequently appealed to the government and other relevant stakeholders to resolve the issue immediately.
"We have been around for some time now but I heard they have run-out of supply, so we are even going to I-Adu to check if we will get some there.
[Also Read] Tanker drivers may withdraw services in Rivers state
"It has been a bad day because we need gas urgently to do a lot of things. Actually, I am supposed to go to work but I decided to go in the afternoon so that I can fill the gas but for now we have been exhausted.
"They should do something about it so that we can get gas because everybody is now using gas", said Eric.
By Peace Obi
---
Get more news like this directly in your inbox