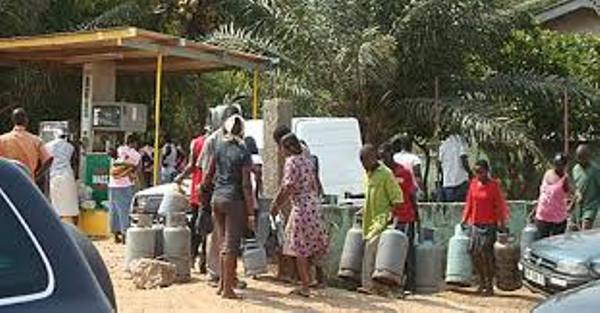 An acute gas (Liquefied Petroleum Gas) shortage has hit some parts of the Greater Accra, Western and Central Regions.
The situation has left consumers who depend on LPG for domestic, commercial and industrial purposes stranded.
According to residents in the affected areas, the shortage, which started on Wednesday, October 28, is taking a toll on them.
The shortage has been blamed on the strike action declared by the Gas Tanker Drivers last month.
[Also Read] Ghana Wants More Local Participation in Petroleum Sector – Egbert Faibille
A customer who preferred to remain anonymous said this was the first time he was experiencing a shortage of the fuel at the Awudome gas station where he always gets his cylinder filled.
"Gas is what we use for everything. This is the first time I have experienced a shortage at the Awudome gas station," he said.
Orient Energy Review learnt that similar situation prevails in Cape Coast in the Central Region and the Sekondi-Takoradi metropolis.
Lamenting how the LPG shortage has negatively impacted their business, some residents and taxi drivers in Sekondi-Takoradie appealed to the government and other relevant stakeholders to resolve the issue immediately.
[Also Read] Ghana Loses $200m In Downstream Petroleum Revenue Annually
"We have been around for some time now but I heard they have run-out of supply, so we are even going to I-Adu to check if we will get some there.
"It has been a bad day because we need gas urgently to do a lot of things. Actually, I am supposed to go to work but I decided to go in the afternoon so that I can fill the gas but for now we have been exhausted.
"They should do something about it so that we can get gas because everybody is now using gas", said Eric.
Different LPG outlets in Cape Coast had no gas in store. Supervisors of the stations also confirmed that the shortage has persisted for a while now.
[Also Read] Ghana: Oil Marketing Companies Slam Government Over Fuel Tax Increment
Meanwhile, there are high expectations that the situation will normalize from this week following an emergency meeting government held with Gas Tanker Drivers Union on Sunday, November 1, 2020.
After the meeting, the Employment Ministry announced that the striking gas tanker drivers had called off their strike.
By Peace Obi
---
Get more news like this directly in your inbox