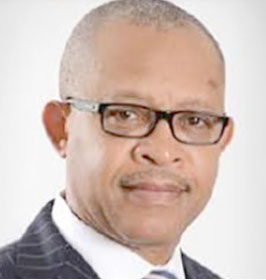 Oil, gas project costs determined by risk profile –Okwuosa, MD Oilserv

Adewale Sanyaolu
Although Nigeria is often rated as Africa's largest crude oil exporter and a frontline member of the Organisation of Petroleum Exporting Countries (OPEC), the cost of investing in the economy is however one of the highest.
But not withstanding the enormous challenges, some operators have through perseverance broken the iron glass to make a success of their investment in the Nigerian oil and Gas industry.
In this interview on the sidelines of the Offshore Technology Conference (OTC), which ended in Houston, Texas, recently, Managing Director and Chief Executive Officer of Oilserv Limited, an indigenous Engineering Procurement and Construction (EPC) company, Mr. Emeka Okwuosa, bares his mind on what escalates the cost of EPC projects in Nigeria.
Okwuosa argues that the volatile business terrain in the country, which has made it an unfriendly and risky business environment is an avenue for financiers to mark up interest rates in order to accommodate unforeseen circumstances.
The Oilserv boss also spoke on his firm's latest inroad into the Abuja-Kano-Kogi (AKK) gas pipeline project, saying the company's track record in pipeline construction has made it a household name in the field of EPC. He also spoke on other issues plaguing Nigeria's oil and gas sector.
Excerpt:
Funding for oil, gas projects
It is a truism that most oil and gas projects are capital intensive. Let me cite an instance using a recent project, the AKK pipeline construction. The project owners, the Nigerian National Petroleum Corporation (NNPC) won't be providing funding for this project.
And if I may ask, why should we not be able to attract funding for this project since NNPC won't be providing same? That's the whole essence of the bid. In the bidding process, every company bidding did actually demonstrate how they can raise the finance and not only that they can do the job. We have already done 80 per cent of that. What we are waiting for is to close the deal with NNPC.
Mind you, this is gas infrastructure development and there are funds all over the world, for those who really know how to go about it. You just have to have the right term sheet and the right way of providing security for it. If, for example, a bank in America says it can give you a billion dollars, there is more than that money that are chasing projects. The problem is the risk and another is, can one pay back or be trusted to deliver? All these coming together could have effect on the pricing. If your risk is too high, your pricing will be up. And if the pricing is too high, the project may not be economical and that's how projects fail.
But in this case, it's all balanced. Oilserv being an EPC company of repute has given us advantage because we don't need to prove ourselves; the financiers know we can deliver. We have the capacity to deliver. We have three financiers eager to give us fund but the biggest challenge in this kind of project is the ability of the Federal Government to provide a guarantee for the fund. We have confidence based on our discussion with NNPC, who is our client, that this arrangement will work. NNPC has a system in place with the support of the Federal Government to make sure that it works.
We are satisfied with the security they are providing and our banks are also satisfied with that. So the issue of funding is not a problem in anyway. The way it works is that, when the money is ready, it is domiciled in the Joint Venture (JV) account with NNPC. Now comes the EPC, as you work, you are paid from that fund.
Update on OB3 project
The Obiafu-Obrikom-Oben project, popularly called the OB3 has been undergoing pre-commissioning in the last three months. That project is the largest gas pipeline existing in Nigeria and it's 48" diameter and 67 kilometre. For you to do pre-commissioning, you have to clean up the pipe and pressurise it. Just imagine 48"-67km pipeline and the volume of water you have to fill. It has to be sectionalised before that can be done.
To dry alone, because you can't mix water with gas, which you intend to transport, you will use a compressor with high pressure and temperature and pump. Just imagine the volume of air you have to pump into 48" diameter-67km pipeline. Sometimes, it can take up to three months to dry.
The process is long and that's what we are doing now.
On the other hand, we are also doing the installation works at the back end of the facilities because the pipeline we are building is different from the ordinary pipeline Nigerians are familiar with. We have the facilities, which include the metering stations, the pigging stations and other heavy duty equipment you have to install, interconnect, test, calibrate and ensure that they are all in good shape to avoid any leakage of sort. The project is at the terminal end. We are supposed to finish it by the end of July 2018, so we are still on track as we speak.
Clinching AKK project
Oilserv is not about singing our praises, it is about facts. Oilserv was set up on a sound basis and principle. That's the basis of sound knowledge of engineering and clear plan to grow technology and grow the company organically.
When we started in 1995, it was a very small company. It was only me and one other employee and we slowly built it up. Now, we built it up by re-investing whatever money we made and acquiring latest technology. It's not just about technology acquisition but by knowing the principles of these technologies.
By my background, I am a cerebral engineer and I worked in 12 different countries before I came back to Nigeria. I was principally focused on developing engineering capacity. Along the line, we moved on to look at the best way of achieving the EPC work we have. We later introduced the welding works.
Welding is at the core of pipeline construction and the major threat in welding is the fact that using traditional welding system, which is the manual welding system, will involve welders' association. Some of them are not there to work but to create problems and you can't control the quality of output too.
We moved on to develop automatic and semi-automatic welding system where it is more like being in a production line in a factory. We trained our own staff and they became the welders but because it is not manual welding but automatic, we are not bound by certain rules of the welders' association. With this, we are able to do as much as 25 joints a day.
Manual welding can't do more than six joints a day. That's how we speed up.  The other technology is our Horizontal Directional Drilling (HDD) technology system. You will realise that in building pipelines, you cross rivers, creeks and all kinds of barriers. If it is water, you will dredge it, drop the pipeline, and cover it up. But by doing that, you disturb the water system, damage the environment and you may muddle the water. If you don't restate it very well, you create additional problem down the road, which can be erosion of the water bed.
To avoid creating this environmental problem, we developed a system where we can drill from one bank to the other without touching the bed of the river.
In crossing roads, in the olden days, we had to cut the road and imagine cutting an eight lane road. Today, we do cross-boring system by going from one end to the other without disturbing vehicular movement on the road.
All these gave us advantage over others. We train students and graduates and we invest in human resources. In all, we were able to win the AKK project because it was through a bidding process and we came out best.
We are the only company in Nigeria today that can deliver such project, the rest can't. We are the first indigenous firm to graduate from being a construction firm to a full EPC company.  To be a full EPC company is expensive. It requires investment, it requires dedication. If you look at the AKK project, you will realise that we got the first section, which is the most important. If you don't get the first section right, you don't have a pipeline.
Oando's role in the project
You have to fully understand that this project is not just an EPC project but it's a contractor-financed project. You go into consortium for a particular reason. Oando is a partner to Oilserv, while Oilserv is the principal EPC company. And I'm talking from the view of EPC.  Oando does not build pipelines, we are in a consortium because it's contractor-financed and it gives us more leverage. Oando has always had concessions from NNPC to develop. For example, they developed the gas pipeline system in Lagos through their sister company called Gaslink. They built Eastern Horizon Company, South-South pipeline, which is from Okanafo through Calabar to Ifamoseng where you have Unicem Cement Plant.
Many other projects they have done but in the core of these projects was Oilserv EPC Company. Oilserv usually builds the pipelines, Oando doesn't. In the Joint Venture, Oilserv will build the pipeline and not Oando.
---
Get more news like this directly in your inbox