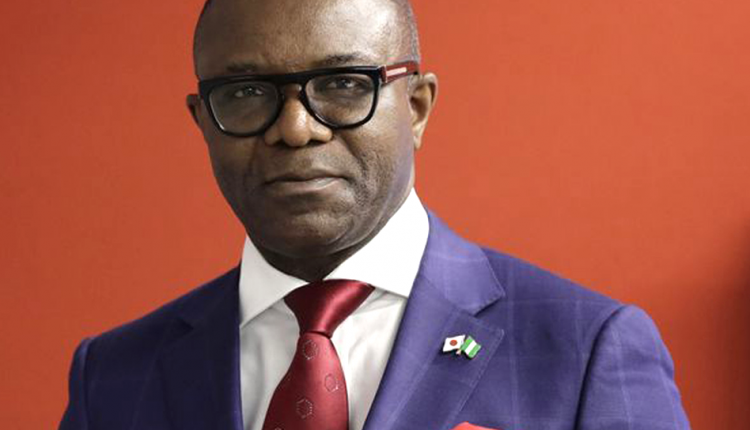 Ghana to Offset Legacy Gas Debt Owed Nigeria, Others by End of 2018

By Chineme Okafor in Abuja
Ghana will try and pay off the legacy debt it owes Nigeria and two International Oil Companies (IOCs) for gas supplied to it through the West African Gas Pipeline (WAGP) framework before the end of 2018, THISDAY has learnt.
This is just as the Minister of State for Petroleum Resources, Dr. Ibe Kachikwu, disclosed on Tuesday in Abuja that more gas resources were being discovered by Nigeria within its offshore oil and gas fields in Lagos.
Speaking at the West African Gas Pipeline Project's Committee of Ministers meeting, the Managing Director of West African Gas Pipeline Company (WAGPCo), Mr. Walter Perez, stated that Ghana had already paid a substantial amount of its debt to the gas suppliers and has said it would clear the balance by the end of 2018.
Reports in April 2018, indicated that Ghana owed a whopping $160 million gas supply debt to N-Gas Limited, a company owned by the Nigerian National Petroleum Corporation (NNPC), Shell and Chevron, and which buys gas from oil companies in Nigeria and transport to Ghana through the WAGP.
N-Gas has an off-take agreement with Ghana to supply about 120 million standard cubic feet per day (mscuf/d) of gas to Ghana's largest power firm, the Volta River Authority, but supplies had fallen short recently on account of the debt.
Perez, however, said: "I am happy to report that additional payments are currently in process. However, more work is needed to retire the debt. To this end, we are encouraged by the assurances given by the ministry that the legacy debt will be fully retired in 2018."
He said significant improvement had been recorded over the years by WAGPCo, the collective efforts of the committee was however still required to attain the promise for further regional integration in gas market.
He explained that irrespective of the fact that a force majeure declared on gas supply was yet to be lifted, WAGPCo had been able to upgrade its compressor which led to a growth in its output from 70 million British thermal unit (BTU), per day, to 85 million BTU per day in 2018.
"However, the situation has significantly improved as a result of work completed by WAPCo in 2018 to upgrade our compressor station in Nigeria to operate at reduced pressures. As a result of this, we have been able to demonstrate the capability to transport over 85 million BTU per day.
"In addition, this upgrade has allowed us to be more consistent in delivering gas to our customers despite variations in pressure at Itoki. With the imminent completion of critical infrastructure projects in Nigeria, it is our hope and prayer that force majeure will be lifted or the foundation value chain contracts restructured so that it will no longer be necessary to operate on a best endeavors basis," added Perez.
He said works on the Western Interconnection Project which would enable the WAGP to flow gas from western offshore Ghana to the primary load centre for power generation at Tema has progressed.
According to him, over the last couple of months, engineering works and related procurement activities had progressed, leading to the execution of a construction management agreement with Eni, which would see the construction commencing at Tema and Takoradi imminently.
He said: "Our industry is complex, dynamic, and evolving.  It is a business in which we must be minded to have a long term view of success, tempered by near term realities. This is why WAGPCo is currently working with WAGPA to redefine the tariff structure for the WAGP.
"This is expected to promote increased utilisation and diversification of both supply and off-take. Doing so will also enable gas from the WAGP to remain the fuel of choice in the West African sub-region.
"I believe deeply in the distinctive mission of the WAGP project and WAPCO's role in the sub-region. I also believe that the future of the WAGP lies in trusting that all partners will commit to their fair share of responsibility to effectively carry forward the objectives and the strategies that will make this ECOWAS dream a reality."
In his remarks, Kachikwu stated that the new gas discoveries in Lagos offshore would in combination with the relative operational peace in the Niger Delta, boost Nigeria's gas supply to WAGPCo.
He said Nigeria, along with the partner countries had nurtured the WAGP project and are looking at further addressing the challenges that had hindered its progress.
The minister maintained that Nigeria will continue to play her part in seeing that all the partners work together with the aspirations of the project to achieve a greater integration of the West African region.
"The WAGP project is being celebrated all over Africa today as the flagship project for the New Partnership for African Development (NEPAD). Therefore, this project should be sustained with our cooperation from all parties.
"On the part of Nigeria, I am pleased to be able to welcome you all at a point when the Niger Delta is stable and gas supply from Nigeria is becoming more assured and also when more gas resources are being discovered offshore Lagos, which could present more option of gas supply to the West African Gas Pipeline Project," he explained.
---
Get more news like this directly in your inbox