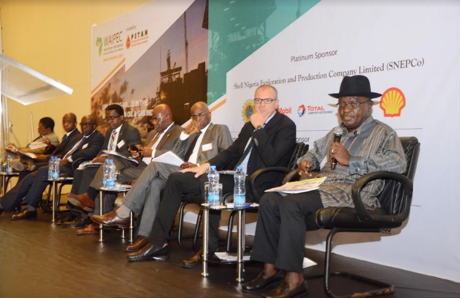 The inaugural West African International Petroleum Conference and Exhibition (WAIPEC) has come and gone, providing delegates and visitors world-class conference program and exhibition.
The two-day event which kicked off on the 22nd of February came to a climax the next day, focusing on unlocking strategic value, leveraging innovation, best practices and technology to grow West Africa's energy industry, with specific discussions on how West Africa's oil and gas sector can remain competitive in a tough global market.
The opening address kicked off proceedings with a key note address delivered by Dr. Maikanti Baru, Group Managing Director of the Nigerian National Petroleum Corporation (NNPC), on 'Collaboration and local capacity development as an enduring strategy in a low oil price environment.'
Then followed expert panel discussion, featuring Managing Director of SEPLAT, Austin Avuru; Executive Director/GM Business Development Upstream Nigeria Commercial, Mobil Producing Nigeria Limited, Seyi Afolabi; Managing Director, First E&P Development Company Limited, Demola Adeyemi Bero; Chief Operating Officer, Upstream, NNPC, Dr. Bello Rabiu; former Managing Director and Chief Executive Officer, Conoil Producing Limited, Dr. Moses Ebietsuwa Omatsola and Managing Partner, Compliance Professionals Plc, Ifueko Omogui-Okaro.
Best practice and collaborative efforts was also of paramount focus at the conference, with Dafe Stephen Sejebor, Group General Manager, National Petroleum Investment Management Services (NAPIMS) highlighting the 'Government expectations for collaboration in joint ventures' and Bayo Ojulari, Managing Director, the Shell Nigeria Exploration and Production Company following up immediately with a discussion on 'Service company and operator collaboration models – drawing on experience from other oil provinces.'
Finally the role of new technology was addressed, with a topical panel discussion featuring the Director –Technical, Addax Petroleum Development (Nigeria) Limited, Chikezie Nwosu; Corporate Strategy & Planning Manager, Nigeria LNG Limited, Dr Yakie Ogon; Chief Executive Officer, TenOil Petroleum and Energy Services Limited, Dr. Tony Chukwueke; Associate Director – Financial Advisory Services, PwC, Nigeria, Olumide Adeosun; and Chief Executive Officer, First Hydrocarbon Limited, Femi Bajomo.
Day Two of the conference dwelled on local content development – with Executive Secretary, the Nigerian Content Development and Monitoring Board (NCDMB), Engr. Simbi Kesiye Wabote, leading with his discussions on 'Identifying policies and factors that encourage and hinder local content development in Nigeria and the region, strategies for growing the industry.'
This theme was then debated by a panel featuring, Chiedu Oba, General Manager, National Content Development, Shell Petroleum Development Company of Nigeria, Dr. Timi Austen-Peters, Chairman, Dorman Long Engineering, Olusoga Oduselu, General Manager, Chevron Nigeria, Tunde Adelana, Executive Director, Monitoring & Planning, NCDMB, Taofik Adegbite, Chief Executive Officer, Marine Platforms Limited, Hon. Emmanuel Ekon, Chairman House Committee on Local Content, Daere Akobo, CEO, Plant Engineering and the NCDMB boss.
The proceedings ended with further discussions on innovation and best practices across the sector, including the spheres of upstream oil and gas development.