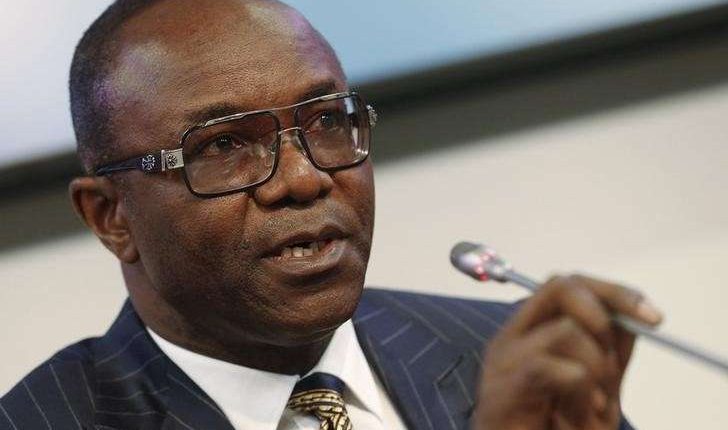 FG targets $40bn from Project 100  

……..selected firms to get institutional incentives
By Chibisi Ohakah, Abuja
The Federal Government has assured that it would offer institutional support to the 60 local oil and gas companies selected from the maiden edition of Project 100. The initiative, which is being midwife directly by the Nigerian Content Development and Monitoring Board (NCDMB), would boost exploration activities by indigenous oil companies and generate additional $40 billion to the national purse.
Unveiling the Project 100 in Abuja on Thursday, the Minister of Petroleum Resources, Dr Ibe Kachikwu, explained that the initiative seeks to develop next generation of  large scale, Nigeria wholly owned oil and gas companies through structured capacity building and policy intervention.
According to him, Project 100 is being promoted as an oil and gas industry intervention, to identify, recognise and nurture, wholly owned indigenous Nigerian oil and gas service providers into large scale players "that will high impact in the economy in terms of job creation, technology development, wealth creation and other local content indicators"
He explained that the 60 companies that were selected under very strict and rigorous exercise, would get institutional, non-financial intervention, as well as financial linkages. The non-financial intervention would include provision of non-pecuniary support such as strategic business/technical support, access to market, etc. to beneficiaries to promote local capacity.
Kachikwu explained further that under the financial linkages, the 60 companies will be provided with relevant linkages for the provision of actual financial/pecuniary interventions to for well targeted initiatives that promote local content development.
The various supports would come from the federal ministry of petroleum resources, agencies under the ministry, as well as from other players in the oil sector, the minister said
Other forms of support for the companies would include highlighting synergies and collaborative opportunities between beneficiaries, as well as with other players across the oil and gas industry to enable them to acquire new capacities and take on large projects.
The minister also explained that the provision of letters of introduction to requesting beneficiaries would be included in the beneficiary application for intervention funds and other credit facilities from public and private financial institutions.
Speaking further, Kachikwu confirmed that the 'Project 100' would reduce influx of expatriates into the country and check job losses to foreign firms. "This is to build the capacity of Nigerians. We have been in the oil and gas exploration, production and distribution for over 60 years and some of the real benefits are still monopolised by foreign operators. The time has come to build our own companies.
"So, we selected indigenous firms that we can help through financing, business opportunities and promote them to the next level. At some point, we should be able to say there is no need to give job out to anybody other than Nigerians." He noted that there wouldn't be limit to the number of beneficiaries.
---
Get more news like this directly in your inbox