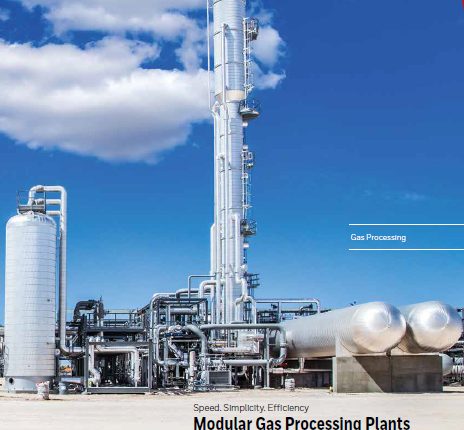 Harnessing Modular Solutions for Gas Processing in Nigeria

By Oladunni Owo
With lots of clamour for cleaner energy, the golden age of oil is gradually winding down, giving a gallant entry to the Gas Golden Age (GGA) .  Over the next decade, global gas usage is expected to rise by more than 30% and this will account for almost one quarter of global energy demand.
To prepare for this upcoming upsurge, it is very important that Nigeria as a country with existing and proven huge gas reserves develop and tap into this global opportunity.
"Nigeria has significant natural gas reserves, estimated at 192 Trillion Cubic Feet, TCF, and currently, ranks ninth in the world. Despite this abundant reserve base, its utilization in the domestic sector is grossly inadequate and the country is yet to fully benefit from her natural gas endowment", Ladan DPR Chief
The graph below also shows that Africa as a continent hasn't done much with regards to gas production
Research has shown that reason for the huge gap between gas reserve and gas production is the numerous challenges associated with gas production such as complicated technology, capital intensiveness e.t.c.
Modular Gas Plant Solution
This is the quickest and easiest solution to gas development, processing and production challenges. Modular gas plants are pretty similar to the Modular Refineries as highlighted in Chapter 7 of my award winning book;  Blackgold Refinery Business Made Easy. As the name implies, the parts are assembled in several components or units called Modules. The modules are designed to be transported without any technical difficulties or issues to any distance around the world.
Modular gas processing plants are factory-built using a unique design and construction approach that allows for quick fabrication and superior quality control. Due to pre-fabricated construction, the plant can be shipped by truck – even to remote locations. Upon delivery to a prepared worksite, the equipment is ready to install. The Modules are designed to fit together rapidly, significantly reducing site construction time, expense and associated delays. The modules and components usually covers acid gas treatment, Dehydration, NGL recovery, Sulphur recovery, Dew pointing, NGL Fractionation, Mercury removal e.t.c.
Advantages
 Gas Flaring: Modular gas plant's core advantage is to reduce gas flaring from gas wells or associated oil well converting it to valuable liquid fuels ( GTL- Gas to Liquid) for domestic and industrial usage such as generating of electricity. Modular gas plants will help to quickly achieve maximum processing capacity and recover valuable NGLs.
Cost Reduction and Quick cash flow: Much of the world's gas reserves are located in remote, hard-to-reach locations, requiring solutions that can be applied in varying conditions. Meanwhile, gas developers need to be able to predict and control capital spending, while maximizing the value of their natural gas and natural gas liquids (NGLs.). Modular Gas plants are designed to get the project on-stream months faster and at a lower installation cost than conventional gas plants, resulting in faster cash flows and better returns. The come with predictable schedules and costs.
Modular gas plant has the general benefit of reduced installation time, lower capital costs, superior performance, and a faster return on investment, comprehensive industrial security, fire and gas safety solutions and total metering solutions for gas and liquids
The Modular gas plant solution is a solution to be considered by all and sundry -public and private sector across the entire country in order to monetize and maximize the benefits associated with the country's huge gas reserves.
For more information on Modular Gas plants, Consultation, Technical advisory and offshore funding for Modular gas plant, please contact author
---
Get more news like this directly in your inbox