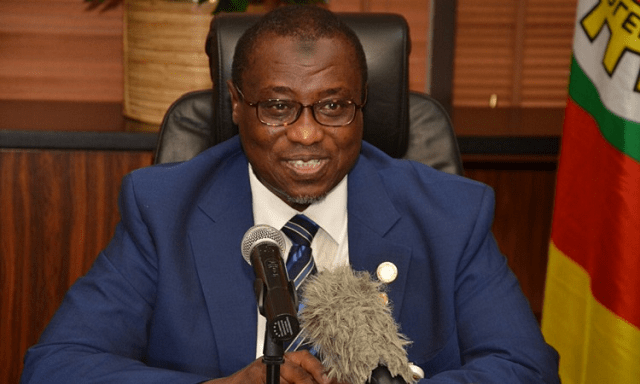 Erstwhile NNPC GMD Maikanti Baru Is Dead

The former Group Managing Director of Nigeria National Petroleum Corporation (NNPC), Dr Baru Maikantu is dead.
Baru died late Friday night in yet undisclosed location and ailments was aged 60.
His death was announced early today (Saturday) by the current GMD of NNPC, Mele Kyari.
"My brother, my friend and my mentor, Dr Maikanti Kachalla Baru, immediate past GMD of NNPC died late last night," Kyari wrote on Twitter.
"He was of exemplary character and disposition. May Allah forgive him and have mercy upon him," Kyari added.
Baru was born in 1959 and led a career in engineering, rising through the ranks at the NNPC before he was eventually appointed to lead the organisation by President Muhammadu Buhari in 2016.
President Muhammadu Buhari replaced Baru with Kyari in July 2019.
As at the time of going to press, the cause of Baru's death or how long he had been ill was yet to be clarified.
The NNPC in an official statement by its spokesperson, Kennie Obateru, expressed regrets over the sudden death of its former head, describing him as "a consummate Mechanical Engineer, (who) died after a brief illness."
Profile
Baru was an oil marketer and the 18th Group Managing Director of the Nigeria's state oil firm, Nigerian National Petroleum Corporation (NNPC) from July 2016 to July 2019, when he retired after attaining the statutory retirement age of 60 on July 8, 2019.
Before joining the NNPC, Baru worked at the Jos Steel Rolling Company Limited between 1988 and 1991, where he occupied various positions, including the Head, Corporate Planning and Electrical Department.
At NNPC, he served in various positions, including as Engineering Manager, Nigerian Engineering and Technical Company Limited (NETCO)- May – November 1991; Manager, Operations of Procurement Management Services (PROMAS) -1991 -1993; General Manager, Gas Division, National Petroleum Investment Management Services (NAPIMS) – 1993-1999; Executive Director, Operation, Nigerian Gas Company (NGC) -1999; Chief Technical Negotiator, NNPC, West African Gas Pipeline Project (1999-2004); Managing Director, Hyson (Nigeria) Limited – 2004-2006; Director, Carlson Services (UK) Limited, a NNPC trading subsidiary – 2004-2007; Chairman, NNPC Anti-Corruption Committee -2004-2007; Group General Manager (GGM), Greenfield Refinery project Division – 2006-2007; Group General Manager (GGM), NAPIMS -2007; Group General Manager (GGM) LNG Investment Management Services (LIMS); Group Executive Director, Exploration & Production, NNPC -2015; Technical Adviser (Gas Matters) to the Minister of State for Petroleum Resources (March 2016-July 2016), and Group Managing Director, NNPC (2016-2019).
Mr Baru was a member of several professional groups and organizations, including Nigerian Society of Engineers, where he was a Fellow; member, Council of Registered Engineers of Nigeria (COREN); Fellow, Nigerian Institution of Mechanical Engineers; member, Nigerian Institute of Mechanical Engineering (NIMechE); member, Nigerian Gas Association (NGA); Chairman, NGA Advisory Board; member, Institute of Directors of Nigeria; member, Financial Reporting Council of Nigeria (FRCN); Honorary Fellow, Nigerian Society of Engineering Technicians; Honorary Fellow, Nigerian Environmental Society (NES); Honorary Fellow, Nigerian Metallurgical Society (NMS); Honorary Fellow, Nigerian Association of Petroleum Explorationists (NAPE). Fellow, Occupational Safety and Health Association (OSHA) UK.
Born in Misau, Bauchi State, Baru attended Federal Government College, Jos for his secondary education where he graduated in 1978. He obtained his Bachelor of Engineering degree from Ahmadu Bello University, Zaria in 1982; a doctorate in Computer Aided Engineering from the University of Sussex, United Kingdom (1987); Harvard Business School, Boston, USA; College of Petroleum and Energy Studies, Oxford University, UK; Columbia University Business School, New York; Stanford University's Graduate School of Business, USA; Wharton's Aresy Institute of Executive Education, Pennsylvania University, USA; IMB, Lausanne, Switzerland.
He was a recipient of many awards and honours, including the Best Technical Drawing and Mechanical Engineering Students (Parts 1 & 2), 1980 and 1981; Shell BP Petroleum and Lever Brothers prizes for the best final year Mechanical Engineering Student of Ahmadu Bello University Zaria (1982); Presidential Merit award of the Nigerian Society of Chemical Engineers; 2016 Honorary award of the Nigerian Association of Petroleum Explorationists to commemorate his conferment as Honorary Member of NAPE; 2016 Achievement Award of the Society of Petroleum Engineers (SPE) Nigeria Council for Outstanding Contributions to SPE Nigeria; 2017 Award of Excellence of the Petroleum and Natural Gas Senior Staff Association of Nigeria (PENGASSAN) in recognition of his resourcefulness and responsiveness to labour and industrial relations issues in Nigeria oil and gas industry; Local Content Champion by the Petroleum Technology Association of Nigerian (PETAN)- 2016; PETAN Appreciation Award for the promotion of the growth of Nigerian companies and entrepreneurs in the petroleum industry through sponsorship of Nigeria's participation at the 2017 Offshore Technology Conference in Houston; 2017 PETAN Oil and Gas Industry Award in recognition of the NNPC aggressive exploration campaign in the Benue Trough and the Chad Basin; Diamond Award in recognition of NNPC's support and contribution towards the success of SPE's Nigeria Annual international conference and Exhibition (NAICE) 2017.
Peace Obi
---
Get more news like this directly in your inbox