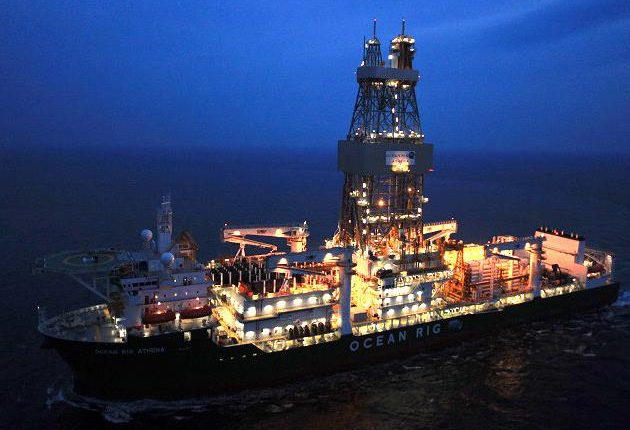 Cairn Energy Drilling SNE-3 Appraisal Well Offshore Senegal
JV partner FAR reports that the second appraisal well to be drilled on the SNE oil field, 100km offshore Senegal, has been re-entered and will now be drilled to planned total depth.  The SNE-3 well, located approx. 3km south of the initial SNE-1 discovery well, will further evaluate the potential of the world-class SNE oil field.
The SNE-3 well follows the successful first appraisal well at SNE-2 (refer ASX announcement 4 January 2016). SNE-2 successfully flowed oil at 8,000 bbls per day constrained and estimated at over 10,000 bbls per day on an unconstrained basis. SNE-2 appears to have the same high quality 32 degree API oil seen in SNE-1.
Also Read: Cairn Follows up on Senegalese Discoveries
The oil flows from the SNE-2 drill stem testing (DST) were important in demonstrating that the SNE field is a world class oil discovery with the ability to flow oil at commercially viable rates as well as highlighting the potential of the upper 'heterolithic' reservoir units to make a material contribution to SNE resource and production volumes. This positive result has helped confirm the overall scale and extent of the SNE resource base and is expected to support a future revision of the SNE resource estimates.
Also Read: Senegal Shines Bright as a Developing Region – Hathon
The SNE-3 well will be drilled in approx. 1,180m of water to a total vertical depth sub-sea (TVDSS) of approx. 2,782m and is expected to include an extensive evaluation program involving coring, logging and flow testing.
SNE-3 was previously drilled to a depth of 1,755 metres by the Ocean Rig Athena prior to the spud of SNE-2 (refer ASX announcement 2 November 2015). FAR expects SNE-3 to reach TD after recommencement of drilling and after the completion of coring in the latter part of next month. It is expected wireline logs will then be run followed by a drill stem testing (DST) program.
Also Read: Senegal's LNG Plant Threatens Nigeria's Market Share
A key aim of the SNE appraisal program is to progress towards proving a minimum economic field size for the SNE discovery, which FAR estimates to be approx. 200 million barrels of recoverable oil as well as determining flow rates for the planning of a future development.  In addition, the BEL-1 well, which will evaluate the untested Buried Hills play to test the Bellatrix exploration prospect, will also appraise the northern portion of the SNE oil field (refer Figures 1, 2). BEL-1 will be drilled after completion of SNE-3.
Also Read: Cairn Energy Spuds SNE-2 Appraisal Well OffShore Senegal
Senegal JV partners: Cairn Energy (Operator) 40%, ConocoPhillips 35%, FAR 15% and Petrosen 10%.
---
Get more news like this directly in your inbox