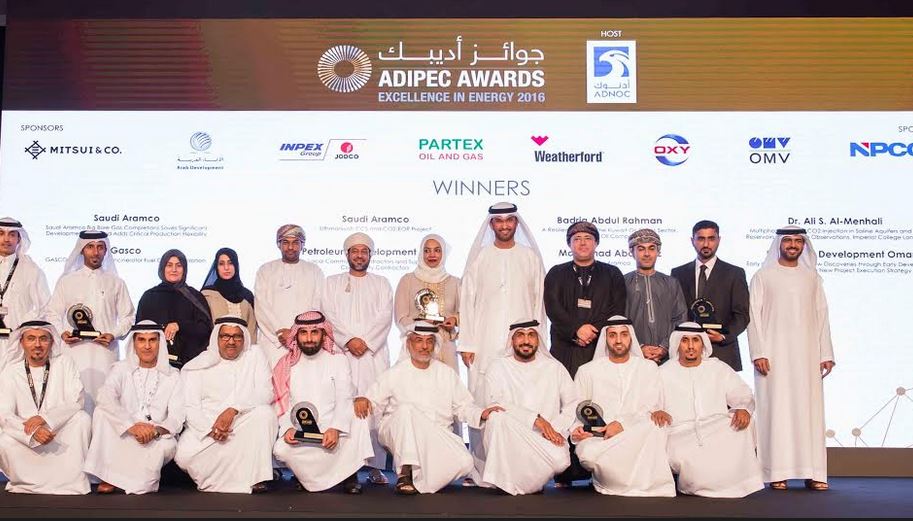 Abu Dhabi, UAE – 09 November 2017 – Abu Dhabi International Petroleum Exhibition and Conference (ADIPEC), the world's most influential oil and gas forum, has revealed the shortlist for this year's prestigious ADIPEC Awards.
A much-anticipated cornerstone of the four-day international forum, the ADIPEC Awards recognise the achievements of companies, people, initiatives and technology shaping the dynamic energy sector, in diverse areas from female professional advancement to digital oilfield automation.
"As the energy landscape continues to evolve in the coming years, innovation will become even more essential to the further development and success of the oil and gas industry," said ADNOC Onshore CEO and ADIPEC Awards Chairman, Saif Ahmed Alghfeli. "The ADIPEC Awards' finalists are making a positive contribution, deploying new ways of thinking to meet present and future challenges, and helping create sustainable opportunities in the years ahead."
The 16 nominees across five categories were deemed to have shown excellence within an area of critical importance to the industry, such as technology, finance, engineering, human resources and socio-economic development. The shortlisting process involved meticulous assessments conducted by the ADIPEC Awards 2017 Regional Select Jury, which comprises experts from across the oil and gas industry.
Names of the winners and runners-up will be announced at the ADIPEC Awards Gala Dinner on the opening night of ADIPEC, Monday, 13 November, at the Ritz-Carlton Abu Dhabi, Grand Canal. Hosted by Abu Dhabi National Oil Company (ADNOC), the ceremony is attended by leading lights from across the petroleum world.
"The ADIPEC Awards highlight best practice by praising the achievements of innovative, future-facing firms and individuals," said Jean-Philippe Cossé, Vice President – Energy at dmg events. "Each of our nominees can be seen as a source of inspiration, setting an example for others to follow, and helping raise standards across the oil and gas industry."
NOMINEES (LISTED ALPHABETICALLY)
 1 – Technological Innovation and Research of the Year
ADNOC Onshore, University of Bath
Electrical Capacitance Tomography for Real-Time Monitoring of Process Pipelines
Saudi Aramco; Baker Hughes, a GE Company (BHGE)
Cable-Deployed Electric Submersible Pump (TransCoil™)
Saudi Aramco, WWT International
World's Slimmest CT Tractor for Matrix Acidizing Stimulations, Interventions and Logging in Extended-Reach Wells
2 – Best Digital Transformation Project
ADNOC Offshore; Schlumberger
Digital Transformation: Delivering an Integrated Real-Time Asset Surveillance for Wells and Facilities Offshore
Petroleum Development of Oman (PDO)
Increasing Value through Digital Transformation; A Case Study from PDO's Thermal EOR Asset
Saudi Aramco
First Intelligent CCS Project in the Middle East
3 – Driving Performance & Efficiency to Enhance Cost Optimisation
ADNOC Onshore
Leading a Sustainable Cost-Conscious Culture
Dubai Supreme Council of Energy
Dubai Integrated Energy Strategy (2030)
Petroleum Development of Oman (PDO)
Innovative Approaches Concepts: New Gas Wells Delivery Acceleration and Flaring Optimisation
4 – Social Contribution and In-Country Value
 The Andhra Pradesh Mineral Development Corporation Ltd (APMDC)
Setting New Benchmarks in Social Contribution and Community Development
OMV
Women's Empowerment Programme – Making History and Changing the Future
Shell International B.V.
Shell LiveWIRE: Boosting Local Skills and Enterprise
Weatherford
UAE – Meeting the World's Demand Consistently and Competitively
5 – Young ADIPEC Engineer
ADNOC Onshore – Esra Al Hosani
Baker Hughes, a GE Company (BHGE) – Nicoletta Fiore
Saudi Aramco – Sarah Alsaif