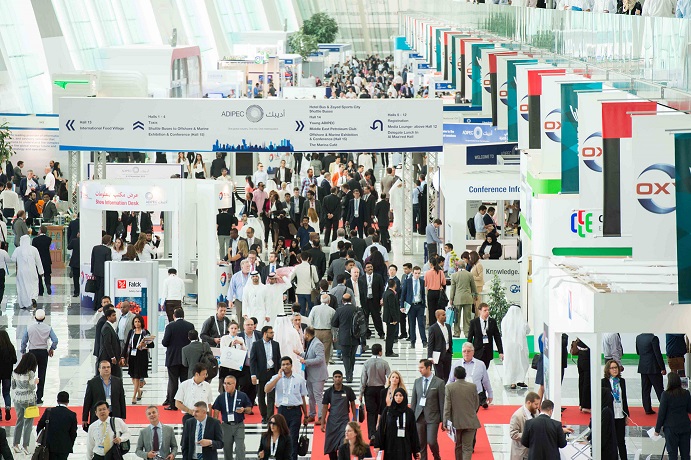 Abu Dhabi, UAE – 11 November 2017 – Saudi Aramco is expected to send its biggest ever delegation to this week's Abu Dhabi International Petroleum Exhibition and Conference (ADIPEC), as Middle East national oil companies (NOCs) establish new commercial partnerships and diversify their operations to ensure sustained long-term growth.
With a production capacity of around 12 million barrels of oil per day and rights to at least 260 billion barrels of recoverable oil in the Kingdom, Saudi Aramco controls around 15 per cent of the world's oil reserves. While the company moves forward with plans for a historic stock market listing, it is also making a series of strategic investments worldwide. These look beyond exploration and production to create a more diversified business, which is part of a more diversified Saudi economy.
In just the past few weeks the company has agreed to buy a 50% share in a polymers and glycol manufacturing project in Malaysia from Petronas and has opened a new office in India, part of long-term plans for the Indian market that include oil supply, refining, marketing, and renewables, as well as petrochemicals and lubricants.
It has also signed a joint-venture agreement with Rowan Companies to establish a new offshore drilling business, ARO Drilling, which will operate a fleet of jack-up barges, many to be Saudi-made, and a partnership agreement with Russia's Gazprom that covers drilling and well workover technologies, improvements to pumping systems, and the development of large-scale non-metal pipes.
"This is very typical of the strategic thinking we are seeing at the major NOCs, investing across the full value chain of oil and gas, as well as in oilfield services," said Christopher Hudson, President – Global Energy at dmg events. "At ADIPEC, we provide a platform that can accelerate the process of identifying and agreeing new strategic partnerships. We are a global meeting point, bringing together the most senior decision makers from across the industry, creating unrivalled opportunities for networking at the highest levels of business and government."
To be held under the theme 'Forging Ties, Driving Growth', ADIPEC 2017 is expected to host more than 10,000 delegates, 2,200 exhibiting companies, 900 speakers, and in excess 100,000 visitors from 135 countries. Those numbers include the top executives from some of the biggest names in oil and gas, and the four-day event is considered as the premier meeting place for energy ministers and C-level executives from the world's oil and gas giants.
The event includes highly regarded strategic and technical conferences, as well as the landmark trade exhibition. Specialised sectors within ADIPEC will focus on security in energy, the offshore and marine industry, and the role of women in energy. The programme for 2017 also expands to include the downstream industry for the first time, reflecting the increasingly broad operations of NOCs.
"The business model for NOCs is evolving quickly, particularly in terms of investments in the downstream sector, so they can capture revenue at each step in the value chain, and in taking a more comprehensive view of their role as an energy business," said Christopher Hudson.
"On the downstream side, we are seeing accelerating investments in refining and processing oil into a finished product, including petrochemicals such as fertilizers and polymers for plastic manufacturing, as well as refineries for fuel. On the energy side, natural gas is seen as an important source of future growth, and oil companies are emerging as important investors in renewable energy."
Held under the patronage of His Highness Sheikh Khalifa Bin Zayed Al Nahyan, President of the UAE, hosted by the Abu Dhabi National Oil Company (ADNOC), and organised by the Global Energy division of dmg events, ADIPEC is one of the world's leading oil and gas events, and the largest in Africa and the Middle East.
ADIPEC will be held at Abu Dhabi National Exhibition Centre from 13 to 16 November 2017.