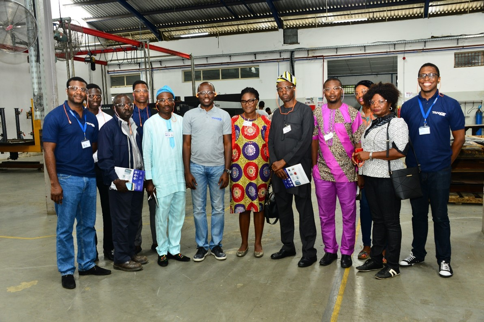 TRANOS, a diversified technology company based in Lagos Nigeria had a successful press launch on the 30th of June 2017 to officially unveil the brand, product and facility. The event was crowned with an exclusive tour of their state of the art facility.
Since their existence in 2008, there has never been an official unveil of the TRANOS brand or products. In preparation for this, TRANOS deemed it fit to give their brand a new identity, tagline and website to further support their evolution of being leader in technology products and solutions.
The brand is based on the philosophy that TRANOS is a knowledge-driven company who promises to add value to lives with innovative solutions and cutting-edge technology.
Present at the event were members of the press, clients, bodies and associations (NIEE, NIMECHE, NIA, NEF, NSE, NSBE), representatives from the Ministry of
The launch included a grand unveiling of some of TRANOS's solutions which were done by the Managing Director, Jude Abalaka. The unveiled products cut across; Energy distribution devices and accessories, power generators like special DC hybrid generators for the telecoms industry, diesel AC generators, changeover switches and isolators, protection devices, power distribution boards, control and automation panels, as well as steel and plastic enclosures.
The event was concluded with an insightful tour of their grand facility that fully showcased their capability.
As the company approaches 10 years of operations in Nigeria, the management believes it can achieve even more. As Mr Abalaka puts it, "There will be challenges. But we are more than able to function at levels that are comparable to what you would find only amongst the world's best technology firms."