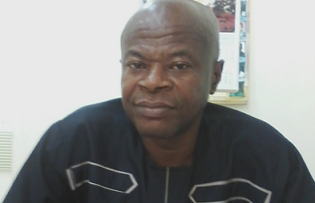 Having been in the Industry for Eighteen years what can you say about Human Capacity Development?
From my experience in the last Eighteen years in the Industry I see human capacity development as a measure weapon to play in the Nigerian Oil and Gas Industry, if you have human capacity, you control and if you don't have then you line up behind those in control. For years I saw how the expatriates were controlling because they had people that were qualified to be project managers for example, but within the first three years in the Industry I saw opportunities, one for myself and also for a group of Nigerians to develop capacity and that has changed the game plan, that has helped put Nigerians like myself to take over within a year of joining a major company.
What is your experience in Human Capacity Development
I had an opportunity of being developed right from when I joined one of the major expatriate company "ABB Sohemi" I have the opportunity of exposure, I was trained and when I joined the biggest Nigerian company " Adamac  group" at that time, I had much more opportunity of development both within and outside Nigeria, and as the group tender manager, I had about thirty people working with me; about 20 of them were Nigerians while 10 were  expatriates and I also had a mandate, apart from my own passion to train Nigerians,  so I had opportunities to assign Nigerians and experienced expatriates especially in the area of preparing proposals. I also had the opportunity of sending some Nigerians abroad to participate in the joint bid preparation with International companies in France, Italy, UK and the good thing we had then was that as a group we had a fabrication company in UK, so a lot of Nigerians went there to participate in Jacket design, jacket fabrication that were later brought to Nigeria. Today those Nigerians, having been trained, are in positions where they manage activities from project management, Engineering to commissioning and these projects in different places around the world are dominated by Nigerian especially now with Local content, most of these jobs are done in Nigeria.
At what point did you join the industry as a player?
I joined the Industry specifically in June 1997 in ABB Sohemi as a proposal engineer and that really exposed me.
What boosted your interest?
Ok, I would say it was really divine arrangement because when I joined, I was assigned to the commercial department but I resisted it because I wanted to go to the field, but of course they said that was your opportunity, so I stayed; and at a process I saw it was like a school, we saw everything about the Nigerian Oil and Gas industry, different tenders were read and we were taught how to prepare tenders so from that position I saw the whole of the value chain;  then I started liking it, reading, knowing a little about virtually everything  and that boosted my interest, capacity, from day one it was training, training and when I came to Adamac, I had the opportunity of not just traveling abroad but also of going there and interacting at very high levels.
How can you assess government efforts of boosting Human Capacity Development in the industry?
Yes, in fairness to the government, I will say they are doing it especially with Nigerian Content Development and Monitoring Board, that organization has become a game changer and the government also did the right thing by appointing somebody that is so passionate "Engr. Ernest Nwapa as first Executive Secretary he has done so well, you know it is unbelievable looking at the level of achievement within these four to five years of implementation of the Act backing the organization.
Do you think government has made some level of impact in Human Capacity Development?
Yes, it's getting better and better; the first NCDMB supervising training that I was involved in just lasted about three to four months, but the government through NCDMB is trying to make it a minimum of one year or during the project, whichever one is longer. So if the project is two years, these guys will be trained till the end of the project. I think its a new thing which the government has introduced and its very good. Another thing I believe they are planning to do is, upon completion of training they will absorb you to the project so that once you are selected to participate for training you will just go all the way from the training-  I mean at the training they will put you on the project somewhere and somebody that has been trained you should not allow the fire to go down.
As a product what are your efforts in Human Capacity Development
Ok, we are not doing this because of profit but because of passion and we believe this is  the only way Nigerians can take charge of the Industry. We do trainings now as a core area of service, we provide NCDMB sponsored and supervised trainings by the Grace of God. We have done NCDMB organized training, we have also done trainings in the area of Induction, we have equally done short trainings in our areas for this year, and we actually have lined up training programmes in November.
What was your involvement in the Nigerian Content Act before it was implemented?
Ok, well I had the opportunity of being at the beginning way back 2004,2005,2006 mid of 2000 we were invited by NETCO an NNPC subsidiary to start the local content efforts, I went there as a representative of my company 'Adamac group" I was in the Engineering sub-sector so we were there and attending monthly meetings. Shortly after that, NNPC upgraded Nigerian content to a division and appointed the first General Manager and we were also there up till 2009 before the Act was implemented. We were part of the yearly Nigerian content Consultative Forum, NCCF.
How would you compare local content between the period of 2000 and 2015?
I would say that we have geometric improvement, I mean if you scale it; it used to be five percent then, but is like seventy percent now. It s unbelievable and the success we have recorded is huge.
Can you please explain how the Nigerian Content Act has been of benefit to Nigerians?
In fact like I said it's a revolution because there were initial resistances but thank God it has succeeded, it has helped a lot of companies to start springing up initially some people did not believe it but when they saw some Nigerians getting opportunities they quickly jumped in. For example, in the marine sub-sector there is this vessel classification thing and as we speak if a Nigerian vessel brings in a vessel made in Nigeria he will have the first opportunity of consideration, he is guaranteed that his vessel will have work, secondly, if you look at Engineering before now, you could do your Engineering design abroad but right now you must do it hundred percent in Nigeria. So a lot of Nigerian Engineering companies are busy working in Nigeria with Nigerians some of course you have to do it  outside Nigeria but some go to the extent of everybody working on it are Nigerians not you have to bring an expatriate.
When did Embee Jay Global Services commence business operation?
Ok, we started actively in 2013 with a contract to train people on NCDMB sponsored training on projects.
What motivated you to establish your company?
I saw opportunity for Nigerian companies.
What is your company's major focus?
My company's major focus today is training and also we provide Nigerian content and related support services to our clients.
Who are your clients?
For now our clients are major EPC contractors who have projects and we handle the training aspect, Deck Oil and Gas Company limited, Morpol Engineering limited, IGPES who provide contracts procurement, Asbury International Company limited, Elshcon and so many others.
What other kind of business does your company do?
We are essentially into Oil and Gas and in the Oil and Gas industry  right now our major focus t are raining, support services in the area of Nigerian content contract procurement and in the area of contract administration, we are also looking at providing specialist services bordering maintenance because we are passionate about maintenance, we are developing capability in rope access technology;  these are the areas of maintenance, and in the area of painting as well as all areas of inspection and certification. We believe they are core area of maintenance. In maintenance standard, we want to be part of those Nigerians who want to ensure that our standards are not lowered, simply because we are Nigerians.
Do you have plans for business expansion?
Yes, we want to have monthly general training and with time we could extend it to other Oil and Gas cities like Abuja, Lagos, Warri. We would be doing monthly training especially in contract procurement, Nigerian content contract administration, quality and safety management to run from February to November this year.
What is your training aimed at?
One thing that we are aiming at is to have opportunity to impact on Nigerians, am happy because the last training we did for twelve Engineers at related disciplines am happy today seeing this twelve Engineers participating in the industry at various levels.
What is your membership strength and who are your partners.
The company is a member of OGTAN, we plan to become a member of PETAN in future because we believe that they are doing the right thing and we have other local and International partners, we have partners in Engineering design, International partners in the areas of Marine, we equally partner with BV for International certification in the area of quality management, PM for success and their UK partners in the area of International training and certification. We are planning to partner with EMN, Nigerian Institute of Welding and we are currently in the process of developing more partners.
You earlier mentioned commencing your corporate monthly training, when will this commence?
Yes, our training is commencing in this month of March and we are looking at Nigerian Content because we want people to understand what Nigerian content is all about so that they can avoid fatal flaws and take a complete advantage of the opportunity, secondly,  we are looking at contract procurement, contract administration/project management, quality management safety, Entrepreneurship development.