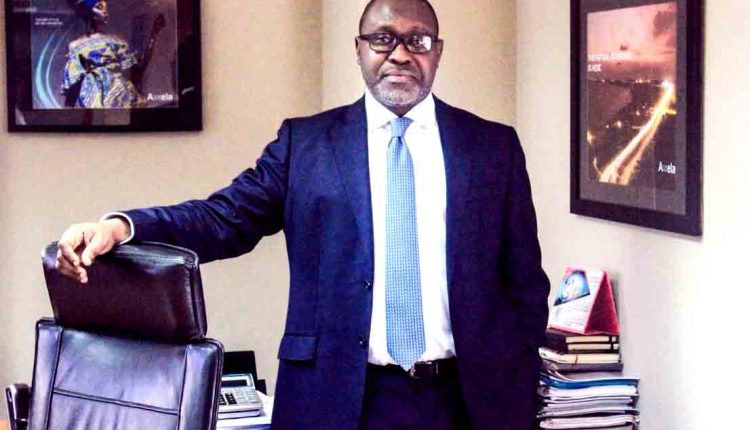 "We need to get Gas to all nooks and crannies of Nigeria to bring about an economic re- awakening" – Osunsanya
Bolaji Osunsanya, a renowned business leader and economist is the Chief Executive Officer of Axxela Group where he oversees the company's expansion programs, in the West African sub-region. Following an extensive career featuring consulting with Arthur Anderson, banking with Access and GTB up to the position of ED, Corporate Banking. Mr Osunsanya has held positions within the Oando Group ranging from Head of Lubes and Specialties, to Chief Marketing Officer for Oando Marketing. He sits on the board of several companies including Oando PLC and Gaslink Nigeria Ltd. on the sidelines at the just World Gas Conference held in Washington DC, Orient Energy Review's team sat with him to discuss issues surrounding the Gas industry in Nigeria as well as the directions, opportunities and trends globally. Excerpts!
Thank you for meeting with us today at this year's WGC and giving us the opportunity to learn more about the activities of AXXELA in particular, Can you give us a brief background of what AXXELA means and how it came about?
Axxela came about as a new investment vehicle resulting from a relationship between OANDO and Helios Investment Partners. It is coined from the words acceleration and excellence which are the drivers of the company's vision of being Nigeria's foremost natural gas distribution provider. It says we are pioneers in this area, but fully envision becoming the largest private sector gas distribution company not only in Nigeria but also the West Africa sub region. We intend to be competitive with all the known names in the industry even on the international level. It's a long term vision, but we are taking incremental steps to get us to our destination. To do this, we are leveraging on the strengths and experiences of our investment partners especially Helios whose sole focus is to bridge their expertise and international capital to our uniquely African enterprise and talent.
How is the AKK project coming along and what major benefits should we expect to see affect the lives of the average Nigerians?
It is going quite well. As you may be aware, we got the contract from Oilserv Ltd. to build the first section of the pipelines. We have spent considerable time putting together the necessary and much needed financing in place because it is a vendor financed program. We are focused on insuring robust financing is in place. All this is going well and that is where we are now. But I must add that our interest goes well beyond just building the necessary infrastructure. We are also heavily invested in opening up new markets. It is not just about vendor financing but to open Nigeria for gas access. As to the second part of the question, let me say from the onset that Nigeria has the resource – gas, but only the Southern part of the country is benefitting. If only we appreciate the multiplier effect that a gas distribution infrastructure does to the economy of the communities it passes through, one would come to the realization that Nigeria is still very much a virgin territory and the opportunities and benefits are immense. We need to get gas to all nooks and crannies of Nigeria and hopefully by doing that, bring about an economic re- awakening in each of those markets. We have not done the Middle Belt or the North. Even the West we are just now headed to Lagos, we have not done Ibadan, the hub in Sagamu has not started, Ilorin West same thing. But when everything is in place we hope to have total interconnectedness. It is the same backbone that will connect back to West Africa and Europe if we are looking to go international and that is where we are ultimately hoping to head. However, we are taking baby steps at the moment and focused on bringing about economic benefits to local communities and indeed Nigeria. By so doing, we will be well placed to go into our sub-region and ultimately Europe. That is our vision. The focus right now is at the industrial level. Individual applications (such as connecting house grids) are still ways off and will ultimately only be done on a marginal basis.
As Partners, How Has Oilserv Impacted Your Development Of Gas Infrastructure?
As I indicated earlier, they awarded us the contract to develop the first section of the AKK. to date, they have been of tremendous help and a great resource. We have a good relationship with them and other stakeholders in the industry.
Is Axxela considering going into LNG in the nearest future with a view to the remarkable success registered by NLNG?
On the AKK pipeline, the very platform upon which we operate and to even build it has been made possible by the government. They have also been at the fore front of helping to resolve challenges faced by the program from time to time, so I cannot give them enough credit. Our overall view is that government should provide "helicopter "support to the private sector in general and let the private sector do the rest. With regards to going into LNG in the future, one can say we are already in it, though on the infrastructure side, but as I alluded to earlier, the long term vision is to do more. In line with our brand statement, we will keep expanding till we discover a more diversified and sustainable source of energy. I spoke earlier of a total energy mix.
What is Axxela's virtual pipeline play for sub-Saharan Africa? Will this strategy help with supply securitization?
Again, we are for now focused on Nigeria as we should surely do. We need to insure access and energy security (in general). We are trying to get the NLNG to look inwards and how they can help to secure the industry. There is a commitment from its board to look inwards and do for LNG, what it has done with LPG – that is, to look at Nigeria as an LNG destination. There is a project we are working on with the NLNG at the moment that should attract that gas from them among all other global sources so that we have a diversified base. That way, LNG is just part of the total energy mix- albeit an important one. By so doing, we hope to diversify away from the infrastructure construction, from the disruption that sometimes occurs in the industry from time to time. So that speaks to the supply side of things.
On a related basis, vandalization of pipelines (as was in the case in the oil industry), has virtually been non-existent at best and very minimal at worst. I can count on my finger tips the number of disruptions we have had this year. The government is doing what it can and the result is a radical departure from where it has been in the past. That security challenge has been brought very much under control. But the way we have also looked at this is to think outside the box. I believe the biggest challenge is that of a single point failure. A disruption to our pipelines in such a scenario is potentially catastrophic. So we are looking at other ways of diversifying supply sources. That is where FSRU and mini LNG comes into play as well as the looping of the Escravos – Lagos pipeline, the AKK etc. The fact that we can create a loop in the infrastructure is what helps when such disruptions occur in the supply chain. We have to create a robust infrastructure such that no one can hold the economy to ransom and to insure that Nigeria always has gas. In addition, we would also deploy the technologies that will help us manage disruptions.
You recently acquired shipper status on the WAGP. How does this affect your growth strategy across the region?
Our regional play is a big thrust in our overall growth strategy. We would like to replicate what we have done in Lagos and PH in virtually all the markets along the West African coast. Just as the Escravos -Lagos pipeline was critical to developments in Nigeria, so too is shipper status on the WAGP is just as critical to our regional pay. That is why we are happy with our shipper status and work has begun in earnest to enable us supply those markets in a short while. Nigeria, by the size of its markets, will obviously remain the focus of our supply efforts but we are looking for incremental markets and diversifying our income base, hence our regional play but not at the expense of a reduction in the Nigerian supply. So we are very excited
In your opinion, what's the biggest issue facing gas development in Nigeria and what would you recommend as the solution?
The challenges facing the gas industry in particular and the power sector in general can usually be placed in traditional buckets as follows:
• Are the markets commercially viable?
• Is the existing infrastructure adequate and appropriate?
• Are the contracts properly structured and with a good commercial construct?
• Do we have the resources both human and capital to insure sustained development?
Unfortunately, we are still a work in progress in all the four areas and need to improve on how we deal with it. What we have going for us is that we have the actual resource and we just have to make the optimal use of that resource. While things have not changed much, we are progressing bit by bit.
What do you aim to take out of WGC this year?
Our participation at this and other similar conferences derives mainly from our positioning as a growth focused company. We recognize that the industry is at such a developed stage that there is a lot to leap frog. Following from this, we have come to the realization that there is no need to learn the industry from scratch and going through the motions. We can learn from those organizations already in play and experienced. So the approach to learning is what brings us to conferences such as this. Speaking to the challenges in the industry, we are also able to learn from the experiences of other participants and source creative solutions. For example, we are working with the idea of working LNG into our gas mix. The Asia countries have been through it all, we can learn from them how to enhance what we have. Issues relating to storage, transportation etc. has been addressed by them and we can learn industry best practices. Attendance at exhibitions also exposes us to cutting edge technology and practical applications in one place which would have cost us time and financial resources going round the world to find solutions to issue we may encounter along the way. So we love attending such conferences and exhibitions. Nigeria, as a nation is also trying to take its rightful place in the market. So as a private company, we try to play our part by supporting efforts of the government to showcase what we have to offer.
What's the next big news we should expect from Axxela?
You know progress is a continuum. I am hoping to see faster growth and faster adaptations in the next 10 to 20 years. We have done some good work so far albeit very slowly and there is still a long way to go. But we don't need to wait to do things organically. We need to deploy technologies and adopt solutions in a much faster way. We gain that by partnerships and there is no need to struggle or wait to do things marginally. We can do acquisitions, M & Es. The more collaborative, the better.
We thank you for your time sir.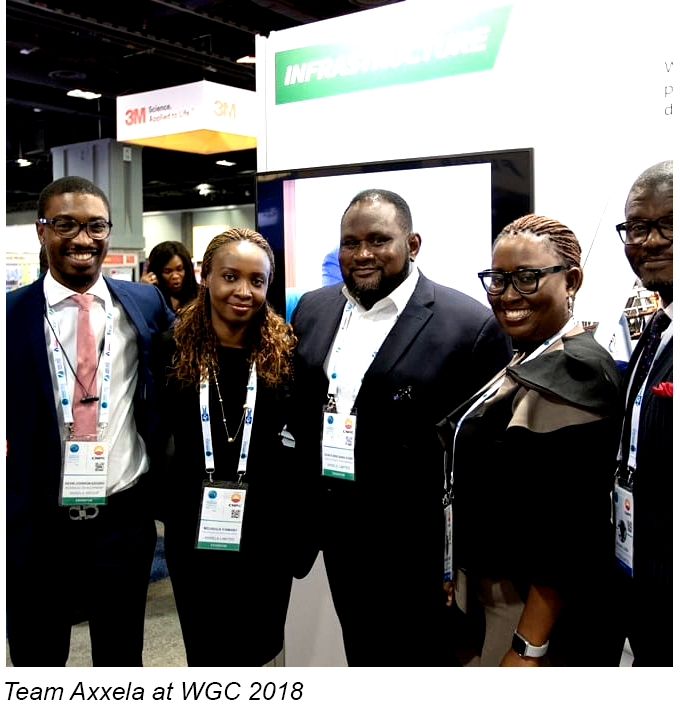 ---
Get more news like this directly in your inbox