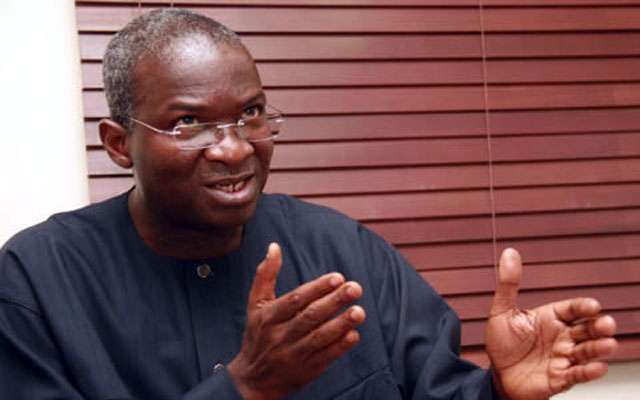 Niger Delta Sabotage of Power Assets Prevented Nigeria From Generating 7,000MW – Fashola

The Minister of Power, Works and Housing, Babatunde Fashola, says the sabotage of power assets by militants has prevented the nation from generating 7,000 MW of electricity.
The minister, who disclosed that the nation's power grid could now support 6,500 MW debunked claims that the capacity of the nation's power grid is not more than 5,000 MW. He added that if pushed to its limit, the nation's grid could as well carry 7,200 MW.
A statement by the minister's media aide, Hakeem Bello, stated that Mr. Fashola said this while speaking at the January edition of the Nextier Power Dialogue held at the Thought Pyramid Art Centre, Abuja.
According to the statement, Mr. Fashola said, "You hear us announcing that we commissioned one
transmission project or the other, you see me going round for these commissioning; that is the Grid evolving. Today, at its most frugal, it would support 6,500MW; pushed to its limit it would carry 7,200MW.
"So it is not true when you hear that the Grid capacity is not more than 5,000MW. It is growing every day and more projects are coming up.
We have completed some and more are still coming up. So that is where we are."
The Minister said while power was out due to attacks in one axis, the expansion of either the Grid or gas supply was kept alive on another axis and hydro power was also being expanded.
He added that though over 3,000MW has been lost recently to attacks on gas infrastructure, a steady average of about 3,000MW to 4,000MW was built back from around August until last week.
"Now it means that notionally, if we had those 3,000MW plus 4,000MW we were already at 7,000MW. But we would not have it because some of our family members are angry," he said referring to militants.
The minister noted that there have been outages across the country in the last 24 hours, stressing that government would do something drastic to rectify the situation.
Mr. Fashola pointed out that while the problems of sabotage were going on, debts were being owed the gas companies.
"You have heard that Federal Government is owing and all that; but you know, we don't have the authentic figures and until we have that I cannot go and tell President Buhari that we want to pay 'about…'. He will say we are not serious. So we expect to see the completion of that so that we can pay what is proven debt," Mr. Fashola said.
The Minister pointed out that Government has made progress in its efforts to achieve energy sufficiency, which was its first objective at inception.
"In the last one year that we have been in office, we have got to an all-time high of 5074MW. Nigeria has never reached there before. But immediately we got that, do you know what happened? They started breaking the gas pipelines one by one. We had 14 attacks in about two months".
"We need to get power from wherever we can. So, we said the first step is Incremental Power wherever we could get it; as long as it is legitimate, it is safe, it is environmentally compliant, we would put it on.
"But some of our brothers are angry; and I continue to tell them anger is not a strategy. I know they will not be angry forever."
The Minister, who appealed for peace and understanding among the militants, appealed to their relations and friends to persuade them to embrace peace adding,
"While they are angry, they are punishing us, they are punishing themselves, they are punishing everybody".
---
Be the first to know when we publish an update