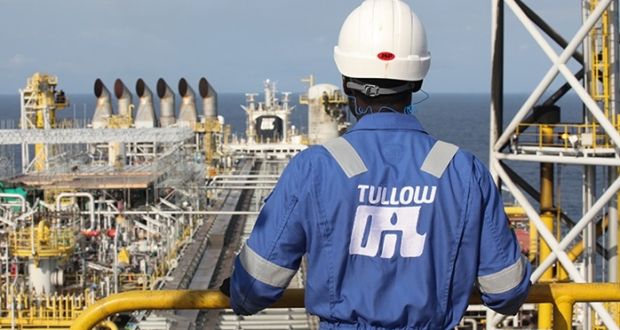 Tullow Oil Cut Production Guidance Over Unresolved Problems

Peace Obi with agency report      
A major International Oil Company in Ghana, Tullow Oil PLC has reduced its annual production guidance due to a delay at a well on the TEN field in Ghana.
The IOC's 2019 oil production will now fall between 89,000 barrels and 93,000 barrels of oil per day against the 90,000 barrels to 98,000 barrels guided before.
According to OER findings, this present status arose after "mechanical issues" in completing the Enyenra-14 production well, which could not come on-stream as planned.
In June this year, Tullow had reported the suspension of the well owing to lingering problems.
The impact of the unresolved problems on the wells saw production in the first half of 2019 averaged 86,300 barrels of oil per day, from 79,100 barrels a year before.
According to Tullow, this led its sales revenue to dip by 3.6% to USD872 million, with pretax profit rising 78% to USD268.4 million.
It noted that the surge experienced in its profit came after a USD150 million provision for onerous service contracts a year prior, which has not repeated.
Tullow is paying a 2.35 US cent dividend for the period, in line with its plan to return USD100 million to shareholders in 2019. The interim payout is worth USD33 million.
"Today's results demonstrate strong financial delivery in the first half of 2019 with robust profit and free cash flow. We are disappointed a mechanical issue at our latest TEN well has caused us to reduce our 2019 production outlook," said Chief Executive Paul McDade.
"However, our overall portfolio of low-cost West African production continues to provide a solid financial base for the business, allowing the Group to invest for future growth, continue to reduce debt and pay dividends to shareholders."
"Elsewhere, our exciting three-well Guyana exploration campaign is now underway and I am particularly pleased to see the good progress being made in Kenya with the first-ever lifting of East Africa crude expected in the coming months," he added.
Tullow shares were 2.5% lower on Wednesday at a price of 202.90 pence each.
---
Get more news like this directly in your inbox