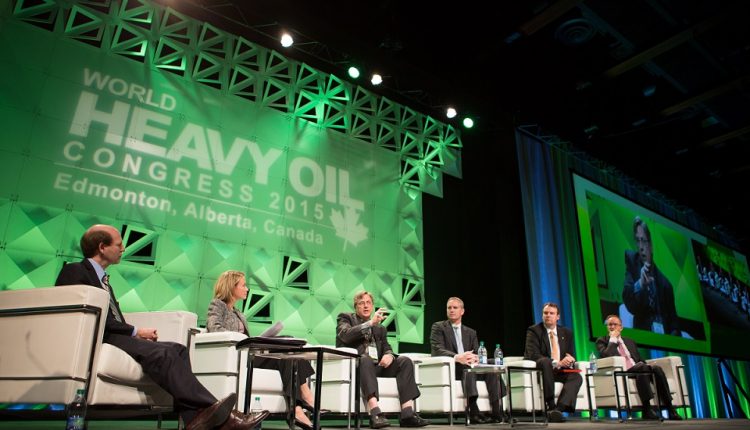 Global Energy Leaders Meet in Calgary to Analyze the Future of Hydrocarbons

8th World Heavy Oil Congress to focus on
connecting the industry for a leaner and fitter future
CALGARY, CANADA – (September 2, 2016) – For the past ten years, World Heavy Oil Congress has continued to be the largest gathering of heavy oil and oil sands professionals from around the globe, where world leaders and international experts come together to share the latest insights of the industry. This year, the event will focus on best practices, technology and collaboration as the industry works towards a leaner and fitter future.
Insights on the Future of Hydrocarbons
"The Conference Program is the largest and most comprehensive we have ever had," said Executive Vice President of Energy from dmg :: events, Wes Scott. "Delegates will get first-hand insights into the future of the hydrocarbons industry worldwide from top international speakers, including Alberta Energy Regulator CEO Jim Ellis, Kuwait Oil Company Deputy CEO Emad Mahmoud Sultan, newly appointed Saskatchewan Economy Minister Dustin Duncan and Government of Alberta Chief Energy Economist Mathew Foss. The focus will be on collaboration, innovation and investment opportunities that will drive the industry forward," he added.
[Also Read] Petroleum Industry Must Embrace the New Energy Landscape, say Global Energy Leaders
Other high-level panelists from China and Nigeria will offer a medium and long term outlook for the heavy oil industry and discuss sustainable drive for the conventional heavy oil production, while meeting the global objectives to reduce carbon emissions.
"As we've grown this conference program over the last ten years, we realized that there was an opportunity to segment this conference into five major streams that specialized in the different areas of heavy oil production," said Conference Producer, Sarah Campbell. "We think this is a really exciting opportunity for visitors to get a focused and specialized experience." The technical conference will include focus on: research, development and new technology; surface facilities, geo-sciences, production optimization, and in-situ recovery & development.
[Also Read] African Energy Chamber Says Cooperation Will Unlock Africa's Energy Sector
To support the industry in the current economy, the Congress will also offer free or discounted education opportunities, including a series of short courses offered by the Canadian Heavy Oil Association, Sproule Associates and Saskatchewan Research Council. "We felt that we needed to support our industry, by continuing to offer top-quality education at low or zero cost," said Scott.
Other educational opportunities include presentation theatres and poster sessions at the free exhibition area, as well as the Future Leaders Conference, aimed to inspire and educate the future CEO's to solve the challenges of tomorrow.
[Also Read] Evolution of Global Energy Mix Will Shape Future Oil & Gas Investments, say UAE Energy Leaders
Hosted by dmg :: events – organizers of Global Petroleum Show – World Heavy Oil Congress will take place from September 6-9 at the BMO Centre in Stampede Park, Calgary. The event features short courses, business and technical conferences, poster sessions, awards, evening receptions, exhibition area and presentation theatres.
---
Get more news like this directly in your inbox