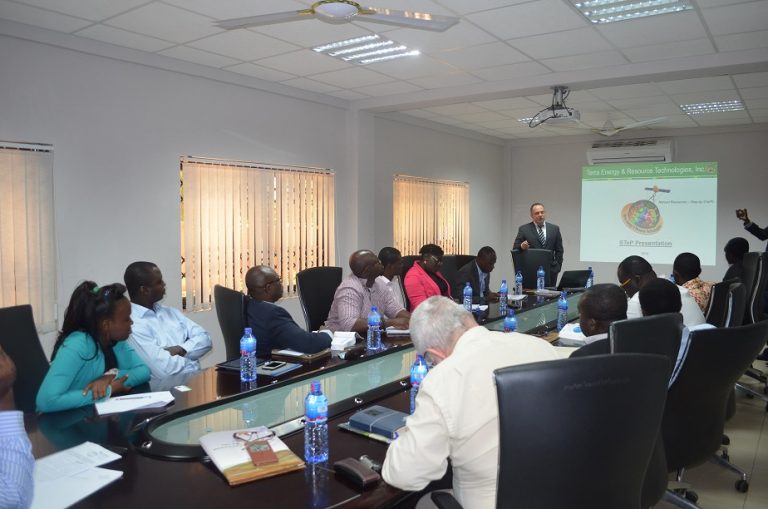 In light of last year's approval of the work programme for work to commence on the inland Voltaian Basin by the Ministry of Petroleum, the Chief Executive of Terra Energy and Technology, Mr. Dmitry Vilbaum met with personnel from the Ministry of Petroleum, Petroleum Commission and Ghana National Petroleum Corporation at the Ministry's conference room annex to introduce and demonstrate Terra's satellite-based Sub-Terrain Prospecting (STeP) technology.
In his presentation, Mr. Dmitry Vilbaum explained that the Sub-Terrain Prospecting (STeP) Technology is a proprietary, remote sensing and analytical technology which interprets and quantifies various natural phenomena which manifest at the surface using sophisticated algorithms and models. According to him, such phenomena are directly linked to subsurface hydrocarbon/mineral‐bearing geological features. Mr. Dmitry Vilbaum further explained that, "most of the data is acquired via satellite" he said. "STeP integrates tectonic, morphological, structural, and spectral models which assess and determine the presence of structures/anomalies, on or off‐shore" he added.
According to Mr. Dmitry Vilbaum, Terra's methods are applied in early exploration stages, in uncharted areas, in difficult settings, in the face of complex geological conditions and/or after conventional methods fail to produce results. "The Terra Technology and services suite is a powerful set of tools that increase exploration success rates, save time and cut costs" he emphasized.
The objective of any exploration venture is to find new volumes of hydrocarbons at a low cost and in a short period of time. In line with this, Mr. Dmitry Vilbaum believes that the STeP study will answer most of the questions associated with the history of the basin's geological development and oil & gas deposition mechanisms. "In addition, our survey will be able to delineate most, if not all, structures and/or zones of hydrocarbon accumulation" he added.
Just after 5 years of oil production, Ghana has recorded significant achievements in the oil and gas industry. The Government is working assiduously to sustain exploration, development and production of the country's endowed resources as well as ensuring increased national access to petroleum products. One major project which is undoubtedly the biggest gas investment in the sub region is the USD 7 Billion OCTP Sankofa gas project. The Petroleum Minister, Hon. Emmanuel Armah-Kofi Buah, in his 2015 Meet-The-Press speech stated that, Government will continue to make the industry vibrant and create jobs for the good people of Ghana. The Voltain Basin represents 40% of the country's land mass.
The meeting was chaired by the Ministry's Director of Petroleum, Mr. Lawrence Apaalse and the Deputy Director Upstream, Mr. George Mensah Okley.
The Terra Technology and services suite includes: STeP, NAGS, SVSL and SLEC.  In the last 10 years, the technologies have been applied in over 100 oil and gas exploration areas ranging in size from 10 to 14,000 sq. km all around the world.