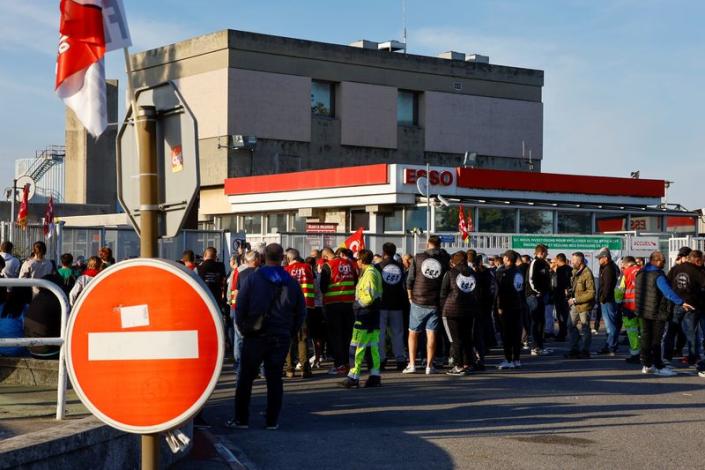 Tolls are beginning to fall in Frances' energy sector with the lingering strike action by protesting workers. An extension of the current strikes at France's Le Havre port has cut off crude oil deliveries to ExxonMobil's nearby Port Jerome refinery, according to the CGT trade union.
Argus said the 236,000bpd Exxon's Port Jerome refinery, in northern France—and the Gravenchon petrochemicals plant will stop operations today, Argus quoted the CGT.
The refinery was originally expected to close earlier this week as the strikes drug on, but the refinery reportedly received a shipment of rude oil from Libya.
TotalEnergies' Gonfreville refinery also shut down earlier in the week—a refinery producing 246,90 barrels per day. Four workers from this refiner were tasked by police to release jet fuel stocks last night, intended for airports in Paris.
Also Read: Four Of France's 6 Refineries To Shut Down Operations Today As Protests Escalate
Other refineries in France that are shuttered are Total's 219,000 bpd Donges refinery and Petroineos' 207,000 bpd Lavera refinery. Strikes have shut down the refineries as French President Emmanuel Macron pushed through a controversial pension reform without a vote in Parliament under parliamentary clause 49:3.
The pension reform would raise the retirement age in France by two years, to age 64. The strikes have disrupted power supply, refining operations, and fuel deliveries for nearly two weeks.
Apart from refining operations, the strikes have disrupted LNG imports into France as LNG import terminals have been shut down. France has four LNG receiving terminals, Dunkirk, Montoir, Fos Cavaou, and Fos Tonkin.
Also Read: Protests: LNG Import Terminals in France Grounded With Little Respite In Sight
Reports say at least seven LNG cargoes heading to France have changed course since the strikes were implemented and are now headed to alternate ports in the Netherlands, the UK, and Spain
By Bosco Agbah