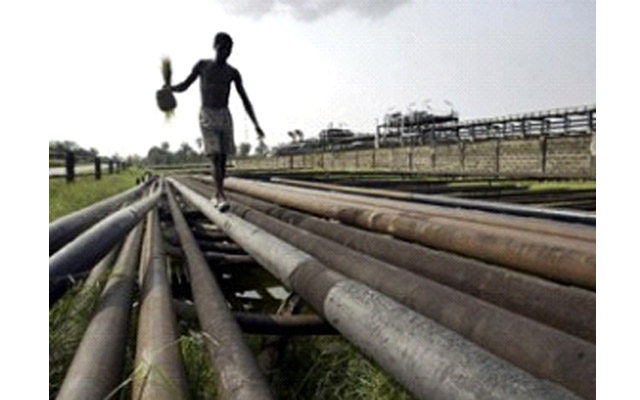 It may be virtually impossible for the Nigerian National Petroleum Corporation, NNPC, to operate its refineries, crude oil and products pipelines nationwide profitably unless the government takes drastic measures to eliminate all acts of pipeline vandalism, according to an investigation by The Guardian.
This is coming in the light of a report titled "Report on Improving Local Refining Capacity in Nigeria", prepared by the Managing Director, Matwims Consult Limited, Mark Tubotein, which reveals that the repeated repairs by Petroleum Pipelines and Marketing Company (PPMC) after each act of vandalism for several years calls to question the integrity of existing pipelines that are over 35 years in operation without adequate maintenance on them.
Before this report, there were revelations by the NNPC that the huge spending by government for the purpose of protecting Nigeria's vital petroleum products' pipelines seemed not to be having any positive effects on the security of the country's oil and gas resources after all.
This is because despite spending N103.4 billion for pipeline repairs and management between January and December 2015, data from the NNPC shows that the Federal Government actually recorded crude oil and product losses of N57.71 billion to pipeline vandalism.
According to Tubotein, the repeated repairs by the Petroleum Pipelines and Marketing Company (PPMC) after each act of vandalism for several years call to question the integrity of existing pipelines that are over 35 years of operation without adequate maintenance on them.
He noted that reports from the NNPC reveal that as from January to August 2015 alone, there have been over 1,824 cases of line breaks on PPMC pipelines. "The corporation, at least, spends billions of naira each year to maintain and secure pipelines with the assistance of security personnel and community personnel in the Niger Delta. With this level of financial expenditure on dilapidated pipelines coupled with low capacity utilisation of local refineries, there is no way the corporation can remain profitable."
He said since the transportation of products through pipelines cost less than the alternative modes, viz, rail, road and sea," providing marketing companies with the access to pipelines for a reasonable fee is essential to protect the consumer interests. All product pipelines need to be treated as utilities and 'common carrier principle' made applicable to all of them. The tariff for the usage of pipelines may be fixed by the regulatory body such as Department of Petroleum Resources (DPR)."
Due to the series of pipeline vandalism, Nigeria has suffered setbacks in meeting its gas obligation to Ghana and other West African countries through the West Africa Gas Pipeline Company. It was learnt that Ghana has already started making alternative arrangements to get gas in order to provide regular electricity, which has been epileptic for several months due to the deficit in Nigeria's supply.
Specifically, NNPC disclosed that a total of 2,832 vandalised points were recorded between February 2015 and January 2016. According to data from the corporation, the Mosimi pipeline recorded 103 breaks in February last year; 60 breaks in March; 101 breaks in April; 146 breaks in June; 78 in July; 79 in August; 44 in September; 66 in October; 57 in November; 93 in December; and in January this year, it recorded 59 breaks. In January alone, Kaduna and Port Harcourt recorded 59 and 247 breaks respectively, while Warri recorded 32 incidents.
The government initially hired community members as guards, but then brought in the security personnel when there was no improvement with the local guards. Not even the intervention of the security personnel could stop the unrepentant vandals.
It was learnt that NNPC then adopted a new strategy in 2011, reportedly signing pipeline protection contracts worth at least $39.5 million a year. The government had touted the deals as effective tools in the fight against oil theft, yet NNPC's own data show pipeline losses actually went up after the new contracts started.
In the last five years, things only appeared to get worse. In the Niger Delta, as many as 5,280 oil wells are linked by 7,000 kilometres of pipelines and are vulnerable to attacks by organised gangs.
The NNPC said in its report that pipeline vandalism, refinery capacity utilisation which is below commercial threshold due to prolonged Turn Around Maintenance (TAM) issues, and products losses, had continued to cost the corporation huge amounts of money.
Although the NNPC has not released the January 2016 claimable Pipeline Repairs/Management Cost and Crude and Product Losses due to vandalised pipelines, The Guardian learnt that the country has already recorded over 400 breaches on pipelines between January and March.
The corporation said that a comprehensive reform of the pipeline security situation would unlock several industry upsides which include improved upstream oil production due to reduced pipeline disruptions, improved refinery utilisation due to increased crude oil feed from restored pipelines, and reduction of crude oil and product losses.
The Minister of State for Petroleum, Dr Emmanuel Kachikwu, had expressed the determination of the corporation to eradicate oil theft and pipeline vandalism in the next eight months.
" I want to assure you that the new leadership of NNPC, with the support and cooperation of all stakeholders, is working very hard to eradicate oil theft and pipeline vandalism in the next eight months," he said.
The NNPC boss said the measure was part of efforts to enhance transparency and accountability in the oil and gas industry, to boost production capacity of the corporation.
According to him, oil theft and pipeline vandalism have greatly affected the revenue generation and image of Nigeria in the international arena.
"Oil theft has reduced our revenue generation and indeed affected the image of our country at the international community," he said. He disclosed that as part of ways to find a lasting solution to the lingering oil theft, NNPC would establish a company that would be saddled with the responsibility of securing pipelines in the country.
*Roseline Okere – The Guardian