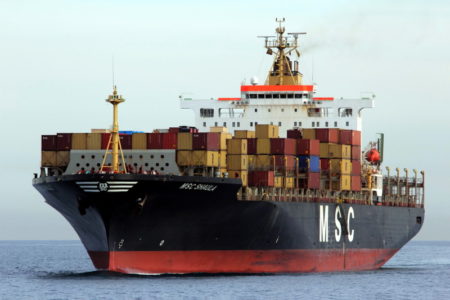 10,908 foreign ships enter Nigerian waters in 2 yrs, carts away $16.2bn

Not less than 10,908 vessels belonging to foreigners called at Nigerian ports between 2016 and 2017, carting away about US$16.2 billion, as a result of the lack of capacity on the part of Nigerian shipowners.
This is even as the Executive Secretary of Nigeria Shippers' Council, Mr. Hassan Bello who doubles as chairman, Nigerian Fleet Implementation Committee, NFIC, has stressed the need for special incentives to investors in order to encourage indigenous ship acquisition and fleet expansion in Nigeria.
The high influx of foreign ship into Nigerian and the attendant huge revenue drain was contained in a document obtained from the Nigerian Maritime Administration and Safety Agency (NIMASA). According to the document, in 2016, 2,047 vessels called at Nigerian ports with Dry Cargo Import while 987 vessels did Dry Cargo Export.
The total amount carted away in these transactions was $3.7billion. In the same year, 2,468 vessels imported and exported Wet Cargoes worth $3.8billion.
In the document which was obtained by our correspondent, in 2017, a total of 1,967 vessels came into Nigerian ports with Dry Cargo Import while 1,145 vessels did Dry Cargo Export with a total of $4.3billion freight paid by Nigerians. On wet cargoes imports and exports, 2,294 vessels called at the port with $4.2billion lost as freight.
Perhaps, corroborating the above, the Shippers' Council boss who was delivering a paper titled "Indigenous Fleet Development, What Options?" at the 20thAnniversary Lecture/Awards and Patrons Investiture Ceremony organized by the League of Maritime Editors in Lagos last week, canvassed that in order to ensure Nigerian indigenous fleet is developed, there is need for zero import duty on vessels as well as abolishing of temporary importation permit.
He disclosed that the Nigerian Fleet Implementation Committee has identified zero import duty on vessels, as well as tonnage tax as topmost among the various incentives that required for the growth of indigenous fleet in Nigeria.
Other incentives he listed are: "Shipping Sector Support Fund, Real Sector Support Fund -2% per annum /9%,Waiver of export tariff for use of Nigerian vessels, waiver of tonnage tax, Right of first refusal for National Carriers in the procurement process for cargo, issuance of Work permit only upon verification of unavailability of ratings or officers".
Other incentives that were advocated by the Shippers' Council boss include, "a very strong safety administration system and procedures in support and protection of the registered ships, a systematic approach to the establishment of merchant shipping security and administration that provide confidence in shipping trade and understanding of the international shipping community".
According to him, other deliberate steps that should be taken by the government include Change of Nigeria's crude oil policy from Free On Board (FOB) to Cost Insurance and Freight (CIF) as well as the Corporate Affairs Commission (CAC) to adopt zero duty for ship finance registration.
Bello lamented the oil rigs in Nigeria waters and the vessels which service them are owned and controlled by foreigners. He said even the vessels involved in coastal trade and inland waterways covered by the Cabotage Act are mostly controlled by foreign ship owners.
He however disclosed that the Vice President, Prof Yemi Osinbajo has so far expressed delight at the prospect of the country trying to find ways to return to international shipping and has directed the NFIC and the Nigerian Investment Promotion Commission (NIPC) to review the proposal and work out the details of incentives stating a holistic and credible approach to address the issues and represent for consideration and approval.
With the directive from the Vice President, Bello said the committee has held meetings with the NIPC to work out the modalities for the granting and implementation of incentives to achieve the development and sustainability of the national fleet.
He said the Vice President equally charged his committee to identify partnerships, benefits and the role of the private sector in achieving the Nigerian fleet project.
---
Get more news like this directly in your inbox