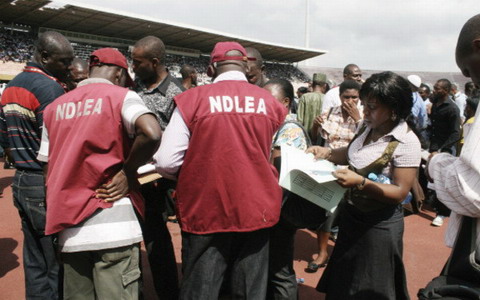 By Oge Obi
Reverting to the 2011 Presidential Directive to reduce the number of agencies operating at the ports to eight, the Nigerian Ports Authority (NPA) has said this directive subsists, thereby excluding Nigerian Drug Law and Enforcement Agency (NDLEA) among the agencies recently sacked from the ports by the NPA. Recall that NPA had in an earlier directive by its Managing Director, Ms. Hadiza Bala Usman during a stakeholders' meeting in Lagos ejected some agencies out of the ports.  Directing that the agencies cease their operations from the ports, the MD said that only seven agencies have the mandate and approval of the NPA to operate in the ports.
The Principal Manager, Public Affairs of NPA, Ibrahim Nasiru in a statement recently, listed the eight approved agencies to include, Ports Authority, Nigeria Customs Service, Nigerian Maritime Administration and Safety Agency, Nigeria Police, Department of State Service, Nigeria Immigration Service and Port Health. Nasiru also stated that the National Drug Law Enforcement Agency had been approved to operate at the ports. Nasiru also stated that the National Drug Law Enforcement Agency had been approved to operate at the ports.
According to Principal Manager, Public Affairs, the directive was communicated to the Managing Director of the NPA through a memo by the Federal Ministry of Transportation. And that the memo also stated that a methodology which would ensure that only relevant cargoes were inspected by the NDLEA would be worked out.
Adding that other agencies not mentioned in the list would remain outside the port premises as the authority would develop standard procedures to facilitate their seamless operations. "The NPA remains committed to the determination of the President Muhammadu Buhari administration to ease of doing business in the country.
"It also remains committed to the implementation of the Executive Orders recently issued by the Acting President, Prof. Yemi Osinbajo, as well as the improvement of conditions under which business is carried out in all ports across the country.
Soliciting for the support of all agencies and stakeholders in the Nigerian Maritime sector, Nasiru said that it would aid the country in actualising the noble goal of making Nigeria a destination of choice for all legitimate businesses.