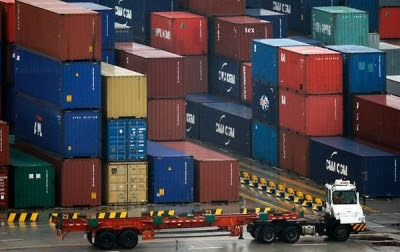 DP World introduces intelligent container storage system

DP World is introducing a world's first intelligent high bay container storing system touted as the disruptive technology that will radically improve operations.
DP World and industrial engineering specialist SMS Group have formed a joint venture to roll out the new and intelligent storing system, which will be applied for the first time at Jebel Ali Terminal 4.
The High Bay Storage system was originally developed by SMS Group subsidiary AMOVA for round the clock handling of metal coils that weigh as much as 50 tonnes each in racks as high as 50 metres.
Instead of stacking containers directly on top of each other, which has been global standard practice for decades, the new system places each container in an individual rack compartment. Containers are stored in an 11-storey rack, creating 200% more capacity than a conventional container terminal, or creating the same capacity in less than a third of the space.
The rack's design means that each container can be accessed without having to move another one, enabling 100% utilisation in a terminal yard.
DP World said the system brings huge gains in speed, energy efficiency, better safety and a major reduction in costs. Costs are further cut by the ability to shorten the time taken to load and unload mega-ships by as much as 30%.
Sultan Ahmed Bin Sulayem, DP World group chairman and ceo, said: "DP World's experience and expertise in moving cargo coupled with the technology of AMOVA will ensure the system is remarkably efficient and relevant for present and future operations."
Dr. Mathias Dobner, ceo of the joint venture, commented: "This new container handling technology allows cities to use their expensive and sensitive land and waterfront areas more effectively. Our system will significantly increase the productivity of handling ships on the quay. This means that quay walls can be shortened by a third. This disruptive innovation will greatly improve the financial performance of container ports, and well as their overall appearance."
Culled from Seatrade
---
Get more news like this directly in your inbox