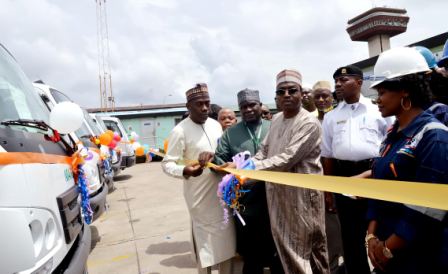 Oge Obi
To maintain its high standard service which has aimed Nigeria a seat in the International Maritime Organization (IMO), as a council member, African Circle Pollution Management Limited (ACPML) recently acquired 16 additional trucks for more efficient and effective service delivery.
ACPML, a MARPOL 73/78 waste reception facility operator for Nigerian Ports Authority which manages ship-generated waste on behalf of the Federal Government noted that it's continued effort at improving its facilities as well as the human resources were aimed at keeping Nigerian waters free of dirt and pollution, while retaining the country's dignified position in the comity of maritime nations.
Speaking at the unveiling of the 16 brand new trucks at the Apapa office of ACPML, the Managing Director, Nigerian Ports Authority (NPA), Hadiza Bala-Usman commended the organisation on the giant strides it has continued to attain. The MD who was represented by the NPA General Manager, Security, Mr. Nasir Anas Mohammed said that it was NPA's greatest pleasure to identify with a result-oriented team as ACPML, adding that the Authority was confident that the additional vehicles would further enhance the organisation's efforts in keeping Nigerian territorial waters clean.
In his opening remarks, the Acting Coordinating Officer of ACPML, Ahmadu Fidi Ahmadu said that increase in demand of its services as well as the need to maintain international best practices in its service delivery prompted the procurement of the trucks.
He further hinted that the Mercedes Benz trucks were fitted with modern technology specially designed for its kind of services, adding that eight trucks would be sent to its Port Harcourt while eight tucks will be retained in Lagos.
Speaking also, the District Manager, Lagos, Mrs. Latifat Ibrahim, said that ACPML in its strives for excellence carries out routine upgrade of its facilities in order to keep up with the IMO requirements for adequacy of port reception facility. Ibrahim noted that the wear and tear on older facilities makes the procurement of new ones inevitable for optimum service delivery.
She noted through years of sensitisation, the port reception facility has established its presence in the Nigerian navigational districts, created a platform and services that is acknowledged in the international community. Adding that establishment of the company's presence involves having right equipment and personnel and timely response to request, among others.
"Here, we strive for excellence in our service delivery. When we came on board with the NPA, awareness was very low, we worked on it, sensitised vessel captains as we meet them, and we had our presence established.
"There was no better way of establishing our presence than having equipment on ground that people can see and having also the human resources to work with the equipment, such that we were able to even go above and beyond what people expected of us. As it, there is no request that will come that we are unable to deal with. We get requests for services even at Lagos anchorage. I can tell you categorically that it wasn't like this four years ago, it has been a steady improvement – scaling up our equipment and services."
According to the District Manager, the accolades and recognition from the international community gave Nigeria a Council Seat in the International Maritime Organisation.  "Also, we need to ensure that Nigeria is not flagged for inadequacy. It is important to note that what we do and the statistics we have on ground is the information with which Nigeria bid to be a council member of the IMO.
"The difference between being a floor member and a council member on the IMO is that as a Council member, you are involved in decision making and as decision making member, you will stand for the things that affect your country such that it is taken into consideration before a decision is taken.
Speaking further, Ibrahim disclosed that the company enjoys tremendous support from the Ministry of Transportation. She however hinted that local legislation will further enhance its performance.
"Again one of the things that will enhance what we do is having local legislation that supports what we do. We already have international legislation which is the MARPOL 73/78 regulation that governs what we do internationally. When there is local legislation, it is possible to have our waters very clean without a trace of dirt. There are countries who have achieved that. They did that with additional local legislation, she said."