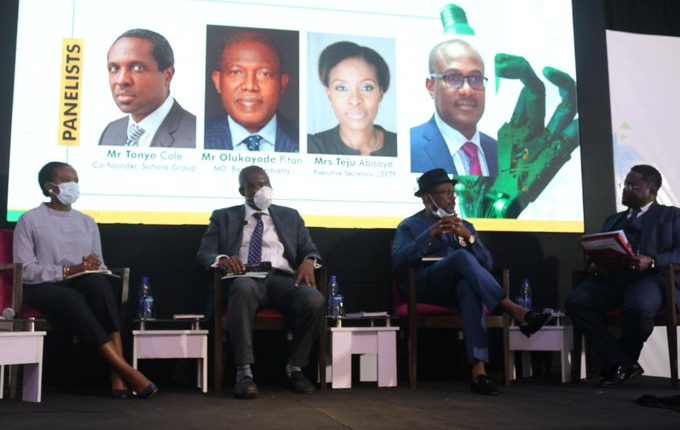 NCDMB Partner Enactus in Launch of Science, Technology, Innovation Challenge

The Nigerian Content Development and Monitoring Board (NCDMB) in partnership with Enactus Nigeria on Thursday launched the Nigerian Content Science and Technology Innovation Challenge, STIC in Lagos.
The Nigerian Content STIC is another dimension into NCDMB's interventions with the science, technology and innovation initiatives. STIC, an enterprise development programme is designed to encourage Nigerian students to embrace the culture of research, innovation and entrepreneurship development.
In his keynote address, the Executive Secretary of NCDMB, Engr Simbi Wabote said that STIC is borne out of the need to position Nigerian Tertiary Institutions as front runners in stimulating ideas on indigenous and affordable technological advances, that are consistent with the aspirations of the Board's 10-year strategic roadmap and the NOGICD Act of 2010.
"We need to prepare and position our young minds and talents for the 4th industrial revolution that is about to take place.
Wabote further stated that in view of the opportunities created by technology and innovation in trying times such as the COVID-19 era, "I call on our teeming youths to put on their thinking cap and innovate towards creating viable solutions that will solve business challenges in Nigeria and the world at large and earn the reward that comes with it.
"The competition is open to Nigerian undergraduates from any of the accredited universities and polytechnics in the country.
"With about 170 public and private universities in Nigeria producing more than half a million graduates every year, we see huge opportunities to extract brilliant ideas from our agile and very creative youths to solve our current and future societal problems. Our interest is to catalyse this for the Nigerian youths," Wabote said.
Also speaking, the Country Director of Enactus Nigeria, Michael Ajayi, noted that STIC is a timely initiative that will positively engage the Nigerian youths and enable them create wealth, job opportunities and innovative solutions for everyday problems in different sector of the nation's economy.
He said that given the rate of unemployment in the country and the attendant manifestations in the forms of crime and vices, "there is no better time to unveil such a youth-centered programme that sits to engage, inspire and support the always dynamic, resourceful and innovative Nigerian youths to become successful social innovators and business leaders.
According to him, the Science, Technology and Innovation Challenge will motivate and challenge undergraduates to imbibe the culture of research and development and apply science, technology and innovation to creating home-grown solutions for every problem in the oil and gas sector as well as different sectors of the Nigerian economy.
He hinted that STIC provides a unique opportunity for Nigerian students with the most innovative and compelling solutions to problems in any sector of the Nigerian economy and urged interested students to enroll into the capacity development programme.
"Those interested in taking advantage of the business development support available through this programme for the transformation of their innovative ideas into sustainable business ventures should visit: www.stic.org.ng and submit their applications.
Providing more information about the implementation of the STIC, Ajayi indicated that the STIC is scheduled to run for a seven (7) month period from submission of applications online, to regional competitions and then to the grand finale.
He said winners of the STIC will also gain access to funding, business incubation, mentorship, and training that will accelerate the journey from business ideation to the market.
The Executive Governor of Lagos State, Babajide Sanwo-Olu, represented by his special adviser on innovation and technology, commended the NCDMB and its partner – Enactus for rising to the need of harnessing the huge potentials of Nigerian youths.
He noted that "We have the resources to enable our youths to thrive in a knowledge economy. Adding that examples abound of youths who transformed the world through technology landscape to define lifestyle and culture.
"STIC is a laudable platform for Nigerian youths to explore and launch themselves into global reckoning in terms of technology, innovation design and implementation."
He noted that his administration has been in the forefront of promoting technology and innovation as evidenced by the recent funding of seven innovative start-up companies in areas such as food security, secular economy and COVID-19 prevention, as well as the funding of research initiatives in University of Lagos, Lagos State University, Yaba College of Technology and the African Research Centre of Excellence.
Other keeper speakers at the event include MD/CEO of Bank of Industry, Olukayode Pitan; the Executive Secretary of the Lagos State Employment Trust Fund (LSTEF) Teju Abisoye; the co-founder former Executive Director of Sahara Energy, Tonye Cole, and Deputy Public Affairs Officer, US Conulate, Lagos, Jennifer Folts.
By Peace Obi
---
Get more news like this directly in your inbox