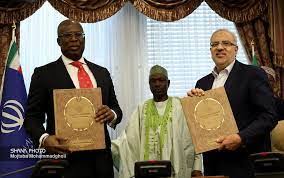 Last Saturday Nigeria and Iran signed a number of agreements including energy deals which will enhance cooperation in the oil and gas sectors of the two OPEC frontline members.
Speaking to newsmen shortly after the signing of the MOUs in Tehran, Iranian Oil Minister Javad Owji says he is hopeful cooperation with Nigeria in the energy sector will improve following the signing of several deals between the two countries.
The deals were signed on the sidelines of the summit of the gas exporting countries (GCEF) in Tehran. He added that he had constructive talks with the Nigerian delegation on the sidelines of the summit too.
Owji said Iran is capable of producing 1 billion cubic meters of gas and 4 million barrels of oil per day, noting that all oil and gas refineries in Iran are being run and maintained by Iranian experts.
The Iranian oil minister also said Iran and Nigeria have great potentials in the energy sector, adding "we hope the capacity will increase."
Owji said both countries are members of OPEC and GCEF as well as the OPEC+, which paves the way for better cooperation between them. Iran and Nigeria sit on huge oil and gas reserves.
Speaking on the agreements Nigeria's minister of state, petroleum resources, Timipre Sylva, disclosed that Iran and Nigeria had previously held various talks on the sidelines of the meeting of the heads of the Gas Exporting Countries Forum (GECF) in Qatar.
"In today's meeting, according to the previous constructive meetings with the Nigerian side, a favourable memorandum of understanding for cooperation was signed between Iranian companies and Nigeria in various fields of energy, including the export of technical and engineering services to this African country, fuelling gasoline cars using the capabilities of Iranian companies, using the capabilities of Nigerian side for production of liquefied natural gas (LNG) and the development of Nigerian oil and gas fields," Timipre Sylva said.
The minister further said that the reconstruction and modernization of Nigeria's oil and gas refineries was one of the other highlights of the memorandum of understanding.