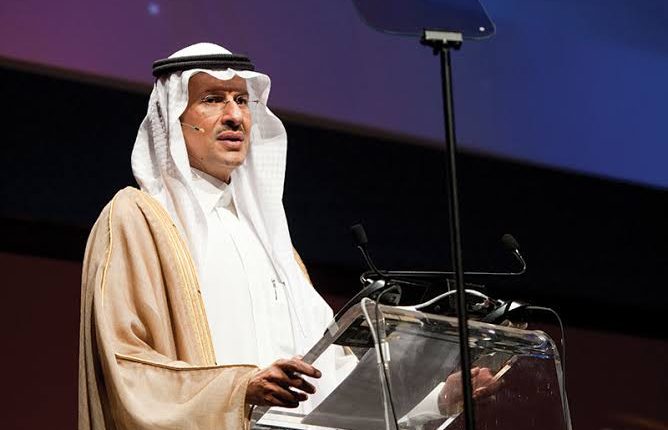 S/Arabia Oil Minister Stresses Unity In OPEC's Oil Cut Deal
Chibisi Ohakah
Saudi Arabia's new energy minister, Prince Abdulaziz, has said that unity among OPEC and other oil-producing countries working on a supply cut deal gives the oil market confidence, and called on every member to "pull its own weight" in complying with the supply cut agreement.
Addressing OPECs Joint Ministerial Monitoring Committee meeting in Abu Dhabi, Abdulaziz said, acting in unity gives greater confidence to the market and this part of OPEC's policy will remain unchanged.
"I just want to stress our common endeavour that relates to the notion of cohesiveness, whereby we all are engaged in the stability of the market. I think we must maintain cohesiveness in OPEC and with our partners in OPEC," S&P Global Platts quoted him in a report yesterday.
The prince and Russia's energy minister, Alexander Novak, are co-chairing the meeting to discuss their current supply pact and compliance among producers. He inherited his predecessor, Khalid al-Falih's role as the de facto leader of the OPEC/non-OPEC coalition. He has been sworn in as Saudi Arabia's energy minister on Sunday.
"We remain determined to reach the ultimate goal of maintaining conformity of all countries participating in OPEC and OPEC plus. I am confident we can all strengthen our partnership and solidarity," the report quoted Novak.
Saudi Arabia has already been over-complying with its cut commitment under the 1.2 million b/d OPEC/non-OPEC production cut agreement that is scheduled to run through March 2020. OPEC said it pumped 29.74 million b/d in August, up 136,000 b/d in July, according to an average of the six secondary sources used by the organization to track member output, including Platts.
The report noted that crude oil output increased mostly in Saudi Arabia, Nigeria, Iraq and the UAE, while it declined mainly in Venezuela, Iran, Libya, Kuwait and Algeria. Saudi Arabia was the biggest driver of the increase, the figures show, pumping 118,000 b/d more on July at 9.8 million b/d. OPEC's kingpin, however, continues to produce well below its OPEC quota of 10.31 million b/d as Riyadh seeks to lead by example on the cuts.
---
Get more news like this directly in your inbox