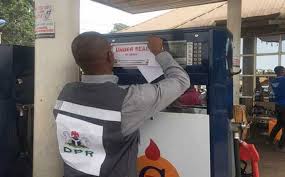 Pump Price Compliance: DPR Shuts Down Abuja Filling Stations
      …PETROAN wants FGN loan for members to cushion effect of changes in price 
Nigeria's Department of Petroleum Resources (DPR) has sealed two petrol stations in the Abuja metropolis for selling the Premium Motor Spirit (PMS) above the regulated price band of N121.50/N123.50 per litre.
The sealing of the petrol stations comes on the heels of calls by the President of Petroleum Products Retail Outlets Owners Association of Nigeria (PETROAN), Prince Billy Harry, for government to offer soft loans to petrol station owners to enable them contain the repeated changes in pump price of premium motor spirit nationwide nu the federal government in the last two months.
He said although it is not a reason for anyone to sell above pump price. He said the loan will cushion the effect of the sudden change in fuel price which he said did not reckon with the existence of old stock with members of PETROAN.
"Our organisation wholly supports the removal of fuel subsidy, but as a group, we are saying it should have human face. There is no way you can say a few unsuspecting members of Nigeria's business community to suffer for a government policy that is no fault of theirs," Harry said.
Meanwhile, DPR said on Sunday that it was gearing up to clamp down on other erring filling stations. DPR Zonal Operations Controller, North-Central, Engr. Abubakar Buba, told newsmen in Abuja that the sealing of the filling stations was sequel to findings by the department's compliance monitoring team that the owners were selling fuel above the approved pump price.
The DPR boss said that after the compliance monitoring tour of petrol stations in the Federal Capital City, all the 35 stations visited complied with the new fuel price except the sealed two stations which sold at N125 per litre.
According to him, the agency's constant monitoring of petrol stations has also prevented many of the stations from under dispensing of the products to motorists. He urged fuel marketers to always abide by market rule to avoid government sanction.
While confirming the existence of adulterated diesel in circulation, the DPR zonal controller said the department was working towards tracing the source and apprehending the perpetrators. He said samples of alleged adulterated diesel had already been taken to be tested in the DPR lab to first establish if they are sub-standard, the level of adulteration and then go after the criminals.
Orient Energy Review, gathered that one of the sealed stations, Rahmaniyyah Oil at Kubwa Express way was later unsealed after the station adjusted its meters to N123.5. It is not clear if the second station, Yinzag Petroils, located on the Mabushi expressway, was sealed later.
Chibisi Ohakah, Abuja

---
Get more news like this directly in your inbox