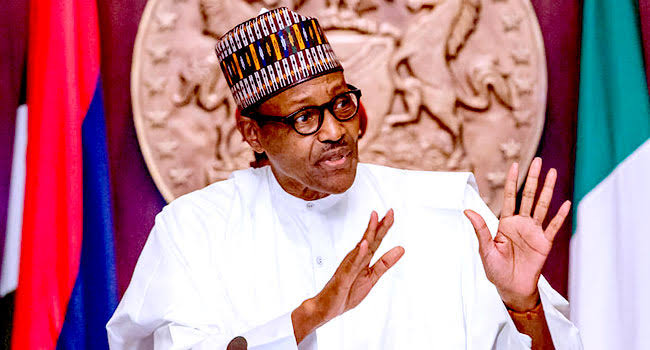 'PIB Whittled Down My Powers As Oil Minister'
…Buhari explains why he rejected the Bill
Nigerian President Muhammadu Buhari has explained that he refused to sign the orchestrated Petroleum Industry Bill (PIB), because he did not want the powers of the oil minister, an office he has held since 2015, to be whittled down.
He withheld his signature from signing the bill even after the chambers of the Nigerian National Assembly passed it.
The PIGB was first proposed some 17 years ago by stakeholders in the oil and gas sector, as an answer to the massive corruption and theft that has confronted every administration since the 1960s.
The Dr Bukola Saraki led 8th National Assembly on March 28, 2017, broke a 17-year jinx by passing a harmonized version of Petroleum Industry Governance Bill (PIGB). But the refusal of Mr President meant the document cannot become law.
In his Nigeria's 59th anniversary broadcast on Tuesday, Buhari said he turned his back against the PIGB packaged by the National Assembly on the grounds that it would reduce the power of the petroleum minister, a position held by the President since he came into office.
Against the backgrounds of promises by both the Senate President and Nigeria's President that the bill will soon be signed into law, President Buhari's explanation, analysts say, suggests that some critical elements of the document would expectedly be dropped.
For instance, the PIGB as was passed by the 8th Senate provided for a Nigerian Petroleum Regulatory Commission (NPRC). The Commission would become the apex supervisory body for the Nigeria oil & gas industry, meaning that neither minister nor any other appointee of the President will singularly supervise the oil ministry in Nigeria.
In the case of President Buhari, as also Nigeria's oil resources minister, the buck would no longer stop on his table. His powers with regards to the oil ministry will be checked by the NPRC.
Furthermore, the NPRC will replace the Petroleum Inspectorate, the Department of Petroleum Resources (DPR) and the Petroleum Products Price Regulatory Agency (PPPRA), and carry out their functions.
While sparing the Petroleum Equalization Fund (PEF), the PIGB recommended the repealing of the PEF Act to be replaced by the legislation of the PIGB.
Part of Buhari's concern, perhaps was what would have become the fate of the national oil corporation, the Nigerian national Corporation (NNPC). The PIGB intends to split NNPC into smaller entities, with the assets and liabilities of this state-run oil company scattered into these smaller entities for efficiency, transparency and accountability purposes.
All of the nation's refineries, the Nigerian Petroleum Development Company (NPDC) Ltd and the joint venture (JV) assets will be transferred from the NNPC to a new entity called the Nigerian Petroleum Company (NPC). The post-PIGB Nigeria would have seen President Buhari either relinquishing the office of oil minister or subjecting himself to the authority of the nine-man NPRC board, which had a fixed tenure.
Chibisi Ohakah
---
Get more news like this directly in your inbox