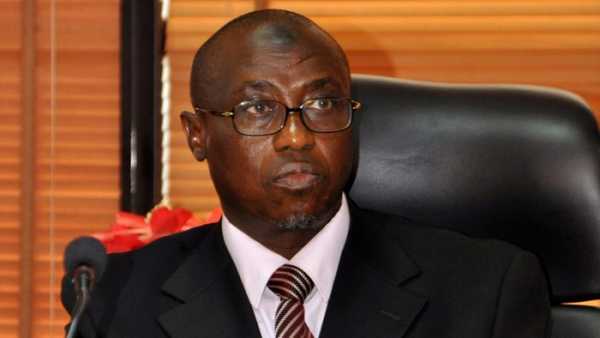 Kolmani River-II Well drilling hits 6,700ft from 14,200ft target
Chibisi Ohakah, Abuja
Drilling activities at Kolmani River-II Well in Gongola Basin, Upper Benue Trough, has reached 6, 700 feet.
The Gongola Basin is one of the six basins that President Buhari mandated the Nigerian National Petroleum Corporation (NNPC) early in February to extend its crude oil search.
The river basins include the Chad Basin, Gongola Basin, Anambra Basin, Sokoto Basin, Dahomey Basin, Bida Basin and the Benue Trough.
The Kolmani River-II Well, of which the drilling activities are expected to end in two months, according to projections, is one of four oil and gas wells that the Nigerian National Petroleum Corporation NNPC said were being planned for drilling this year on the Gongola Basin to further test the prospects identified around Kolmani River-1, Nasara-1 and Kuzari-1
Receiving an Award presented to him by the Petroleum Technology Association of Nigeria (PETAN) executive for his landmark achievement in the development of Inland Basins in the country, especially the drilling of the Kolmani River-II Well and his efforts in Deep Water operations, Group Managing Director of NNPC, Engr Maikanti Barau disclosed that the target of Kolmani River-II Well was 14,200 feet, although the depth could be longer depending on findings.
Prospecting for oil and gas in Kolmani River-II Well is one of the recent foray of the government into inland exploration in parts of the country.
He said that in furtherance of its African integration drive, the NNPC was considering extending the ongoing Ajaokuta-Kaduna – Kano (AKK) gas pipeline system across the Sahara to Algeria in North Africa. There is another plan by the Federal Government to also extend the West African Gas Pipeline (WAGP) to Morocco.
In his speech, PETAN Chairman, Mr Bank Anthony Okoroafor, commended Dr Baru for engineering transformation in every aspect of the petroleum industry since his assumption of office. He cited the resumption of exploration in the inland basins and the flag-off of Bonga South–West project which has been in the shelf for more than 10 years as fruits of the NNPC boss's visionary leadership and doggedness.
The PETAN chairman stated that in recognition of Dr Baru's sterling performance and as a mark of appreciation to him, the association had decided to honour him with its "Visionary Leadership Award."
He said Baru would also officially open the Nigerian pavilion at the forthcoming Offshore Technology Conference (OTC) and serve as keynote speaker on the theme: "Nigeria's Deepwater: The Journey So Far" at the conference.
He further proposed that the NNPC GMD would serve as chairman of the technical session. Okorafor explained that the association was committed to the realization of the nation's four million barrels per day production and 40 billion barrels reserve targets, adding that with Baru's commitment, the targets would be achieved.
---
Get timely updates on Local Content and other Energy industry related news