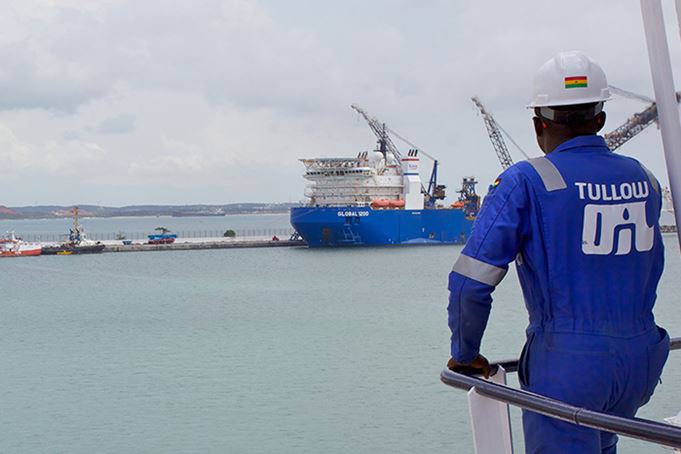 By Karin Matussek
Moses Mozart Dzawu  and Olivier Monnier
A ruling by the International Tribunal for the Law of the Sea will keep Tullow Oil Plc's offshore fields under Ghana's jurisdiction following the end of a boundary dispute with Ivory Coast.
The Tweneboa, Enyenra and Ntomme fields, which hold an estimated 2 billion barrels of oil and 1.2 trillion cubic feet of natural gas, will remain with the West African nation after a decision by the Hamburg-based tribunal on Saturday, Tullow said in an emailed statement. The new boundary deviates little from Ghana's claim for its border with Ivory Coast, according to three people familiar with the matter, who asked not to be identified because they're not authorized to speak in public.
The ruling will remove "doubt anyone had about the boundary, because that is clear now," Tullow Oil Ghana Managing Director Charles Darku told reporters in the capital, Accra. "Anyone that wants to work around investing in that area should see their way clear."
READ ALSO : Saipem Awarded New Work Worth $370 Million
TEN's output will be maintained at 50,000 barrels a day until the end of the year, Darku said. The London-based explorer owns 47.2 percent of the fields, while Kosmos Energy Ltd. and Anadarko Petroleum Corp. each own 17 percent. Ghana National Petroleum Corp. holds 15 percent and PetroSA the rest.
Ghana didn't violate Ivory Coast's sovereign rights by using the field, Judge Boualem Bouguetaia said as he read the tribunal's ruling ion the courtroom.
Tullow will work with the Ghana government to get the necessary permits to allow the restart of drilling at the fields by the end of the year, Darku said. The floating production storage and offloading vessel at TEN has a design capacity of 80,000 barrels a day.
Economic relief
Boakye Agyarko, Ghana's energy minister, confirmed by text that the country will retain control over the fields. The ruling is a relief for Ghana, which is relying on oil revenue to boost economic growth and ease its budget deficit.
Ivory Coast will abide by the ruling of the tribunal even though the implication of the judgment remains unclear, government spokesman Bruno Kone said by phone.
"We'll see if there are other ways that'll be given to us and to what extent we'll be able to use them," Kone said. "For now, we stick to what the tribunal has decided."
READ ALSO : Ghana Launches World Energy Council's Future Energy Leaders' Program
— With assistance by Paul Burkhardt, and Gaspard Sebag