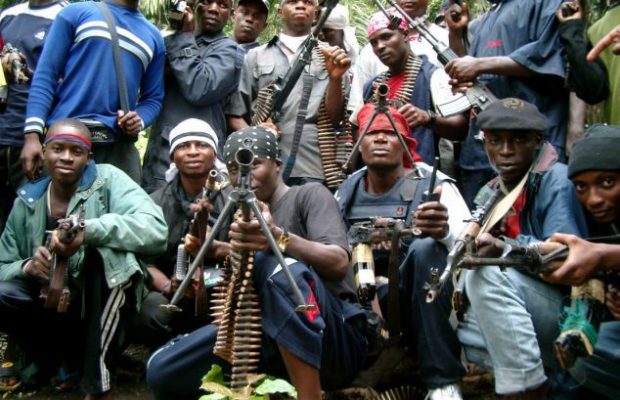 Finally, Niger Delta Avengers agree to talks, insist on foreign mediators
The militant group, Niger Delta Avengers, which has carried out attacks on oil facilities in the Niger Delta region, said it would consider negotiation with the government if independent mediators assisted.
The Federal government last week offered to hold talks with the group, which wants a greater share of Nigeria's oil wealth to go to the impoverished Niger Delta region.
In a statement on its website, the Avengers said they wanted multinational oil companies operating in the country to "commit independent mediators to this proposed dialogue" to "bring about a lasting peace".
"If need be we may review our earlier stance of not taking lives," the statement said.
On Sunday, the Movement for the Emancipation of the Niger Delta, one of the region's largest militant groups until it signed up for a government amnesty in 2009, urged the Avengers to take part in negotiations.
The group also said in a statement it may review its "earlier stands of not taking lives" if its demands were not met.
But while reconsidering its stand not to enter into talks with federal authorities, the group noted that it would only negotiate with the government under the right atmosphere and with the right attitude from the government team and international mediators.
The statement signed by 'Brigadier General' Murdock Agbinibo, the group's spokesperson, however, said that until the framework for the proposed talks was agreed upon, all destroyed pipelines must remain unrepaired.
It noted that to show the NDA's seriousness, two large vessels belonging to the oil companies would be sunk in the deep waters if the oil concerns flout the order not to carry out repairs or lift crude oil until after negotiations.
The NDA also vowed to renege on its vow not to shed any blood or take innocent lives if the federal government refuses to create the right atmosphere for discussions, noting that when the dialogue earnestly begins, all parties must keep to the conditions.
"The high command of the Niger Delta Avengers (NDA) is using this medium to restate that there are no new items to put on the table for dialogue.
"We only want a genuine attitude and conducive atmosphere that will make us commit to any proposed dialogue and lasting peace talk," the statement added.
Last week, the group indicated that it wants to sell oil "directly to foreign buyers," even as it warned countries to stop buying Nigeria's crude.
It has also resisted overtures for peace from the rival Movement for the Emancipation of the Niger Delta (MEND).
Attacks in the oil-rich Niger Delta have pushed oil production to a 20-year low in what was until recently Africa's biggest oil producing nation. Its production has fallen behind Angola in the last few weeks.