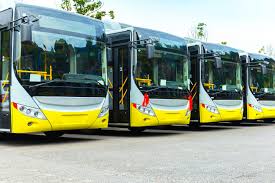 Uganda to Produce 5,000 EVs, Electric Buses Every Year By 2021
Uganda's state-owned Kiira Motors Corporation has said that it would begin the production of 5,000 electric vehicles every year, including buses, by 2021.
The motor corporation is collaborating with the Chinese manufacturer, CHTC Motor Co, a subsidiary of the Chinese state-owned Sinomach Automobile Co.
Afrik21 news agency said in a report last weekend that the construction of an electric car production plant is well under way in Jinja, a town 9km from the Ugandan capital Kampala. The aim of this project is not only to modernise the car fleet in Ugandan cities and create jobs, but above all to combat air pollution in large cities such as Kampala, where obsolete vehicles provide public transport, the report said.
The state-owned Kiira Motors Corp. plans to produce electric cars, including buses that will provide public transport in Uganda's major cities. The authorities estimate that the plant, which will come into operation by 2021, will be capable of producing 5,000 electric cars per year, enough to satisfy the Ugandan market, and even sub-regional markets.
The project to build a factory for the production of electric cars is not new. Thirteen years ago, students and staff at Makerere University in Kampala participated in an initiative at the Massachusetts Institute of Technology to develop a five-seat plug-in hybrid vehicle. After the project, scientists at Makerere University replicated the experiment by producing the first two-seat electric car, the Kiira EV.
The naming of this first prototype will inspire the name of the young company, which is again producing a three-seater electric car, and later an electric bus that made the headlines on the African continent.
The success encouraged the Ugandan authorities to set up Kiira Motors Corp. to showcase Ugandan local content. To embark on a larger scale project, the Kiira Motors Corporation signed a partnership with the Chinese company CHTC Motor Co, a subsidiary of Sinomach Automobile.
Part of the agreement is for the Chinese to train Kiira Motors Corp., a move that resulted in the manufacture of two prototype electric buses called Kayoola EVS, which boosted the Ugandan government ambition to produce 5,000 electric vehicles per year. CHTC Motor Co. will provide most of the equipment for Kiira Motors Corp.'s future electric cars.
However, the authorities aim to manufacture 90% of the components locally in Uganda. It is a very daring venture when one considers that the manufacture of batteries for electric cars requires sophisticated techniques and equipment.
Afrik21 said the Ugandan plant will still be able to produce windows, air filters, the frame and the 12-volt batteries to power the radio. Jinja's electric car production line should enable Uganda to position itself in the still nascent market for electric cars in sub-Saharan Africa.
By Chibisi Ohakah, Abuja


---
Get more news like this directly in your inbox