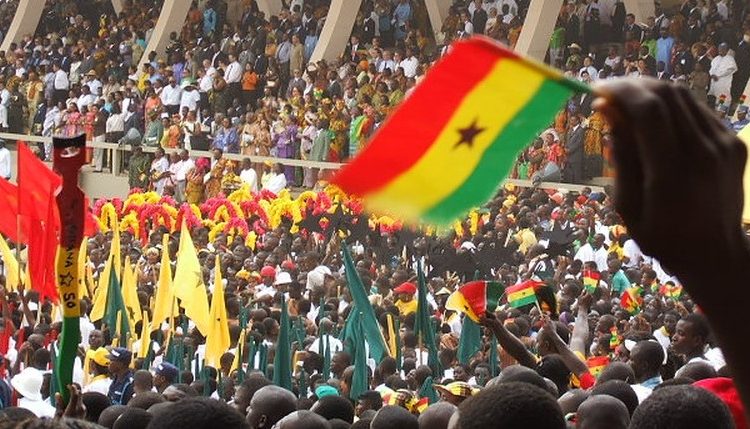 Oil and Politics: What Do Ghana's Political Parties Have To Offer?

As Ghana's Presidential and Parliamentary elections draws closer, players in the oil and gas industry have started interrogating the manifestoes of the two main political parties, the National Democratic Congress (NDC) and the New Patriotic Party (NPP), for their policy direction for the industry.
NPP manifesto
The New Patriotic Party (NPP) in its manifesto said it is committed to a transparent, accountable and efficient management of the country's petroleum resources for the benefit of all Ghanaians.
Under the party's petroleum revenue management ambition, the NPP said "Between 2017 and 2020, primarily allocate revenue from oil to infrastructure, health, education and agriculture; leverage oil revenue to complete the Accra-Kumasi-Paga rail line; connections and the rehabilitation of the Western and Eastern Rail Lines; and to manage and use the revenue from the Jubilee, as well as from the TEN and SANKOFA fields, in a responsible and transparent manner".
The NDC manifesto
The National Democratic Congress (NDC), the ruling government, in its manifesto indicated that "Ghana's oil and gas sector has been significantly transformed under the NDC Government. Relevant laws have been promulgated to promote and regulate activities in the industry. These laws have created a transparent oil and gas production and management regime".
The NDC is promising to among other things to "Construct a new and bigger Liquefied Petroleum Gas (LPG) pipeline to the jetty at Tema for more efficient discharge, storage and distribution of LPG; construct a second and bigger Single Point Mooring for petroleum products to ensure greater efficiency in the delivery of petroleum products into the country and to also make Ghana the petroleum hub for the sub-region; build a Liquified Natural Gas (LNG) infrastructure to ensure continuous supply of natural gas to power plants".
Despite these provisions in the manifestoes of the two major political parties, oil and gas industry watchers are of the opinion that these provisions are not enough and do not represent a clear and comprehensive policy direction.
According to Samuel Bekoe, Africa Regional Associate of the Natural Resource Governance Institute, "The manifestoes have alluded to how they are going to use oil money but they are all general and vague. It does not really point to targets or specific issues. Because we are guided by law, the oil money will always be used on certain sectors until we have a long term national development plan. Different governments have different priority areas and this eventually affects how the oil money is spent".
Currently Ghana's oil revenue contributes only about 5% to the country's GDP.
For Major (Rtd) Daniel Ablorh-Quarcoo, Former Chairman, Public Interest and Accountability Committee (PIAC), the 5% contribution of the oil and gas to the country's GDP explains why politicians will not overly focus on the sector as against the other 95% out there.
He however pointed out that, "There is no clear policy direction as to what direction Ghana want to take its oil and gas industry. But I must confess that I have not taken the time to study the manifestoes of the political parties. So I don't want to make a sweeping statement that their manifestos do not address these policy issues".
Major (Rtd) Abloorh-Quarcoo, observed that the intention of the country's Petroleum Revenue Management Act is that oil resources and revenue must make an impact in society but unfortunately that is not the case now.
In many of its reports, PIAC has accused government for spending on things that are not really the priority of the citizens.
"In most of the districts workshops that we organized, we got a lot of feedback from the people. And I really wish and hope that PIAC report for September, which is on the year 2015, will come out and be food for journalist to discuss. That will be a good platform to set the agenda for this year's elections issues.
But at least if for nothing at all, I expect political parties who are competing for the mandate of the people to come clean on how they intend to use the oil revenue".
Ghana's Petroleum Revenue Management Act requires that the government should select four priority areas among the twelve areas identify for development.
"What we have seen in the past, is that under capacity building, everything is included in there. It has become an omnibus clause for mismanagement. It does not really fit.
If you look at the past six years our oil revenue amounted to about US$3billion plus, but we have not managed it well.
So far the construction of the Atuabo Gas Processing Plant is the only major thing that came out of our oil revenue. The rest if you ask me I don't know. It has been a litany of we have done that and we have done this without being able to lay your hands on anything specifically. At least one third have been accounted for successfully with the two thirds clearly lost in the pool.
This is one reason why we have to support the National Development Plan and hope that all the political parties strictly adhere to it when it becomes operational".
On his part, Mr. Samuel Bekoe, noted that Ghana has to look at what we want to achieve with the extractive sector in the medium to long term plan and aggressively pursue it because the oil resources are finite.
He advocated that Ghana can use the oil money to support the other sectors of the country's economy such as agriculture. "Take cocoa for example; Ghana is now the third largest exporter of cocoa in the world. Is cocoa production and process our absolute advantage, I will say yes. So why don't we process our cocoa beans into paste before we export. So the vision will be that 50% percent of the oil money goes to support local people or local companies that build factories to process the cocoa beans before they export.
So in ten years when we access ourselves, we would have used oil money to diversify a major part of the economy. People will no longer be reliant on oil and gas but cocoa as well".
Downstream expectations
For Duncan Amoah,Executive Secretary, Chamber of Petroleum Consumers Ghana(COPECGH), they are very interested to know the position of the political parties on how to manage the numerous taxes on petroleum products.
"Some will just say at the altar of political campaigning that when they come they will reduce taxes and so forth, but we would want to hear a clear strategy that explains that if I reduce taxes by A or B this is how I am going to raise same or some amount of money from C or D to be able to shore up the differences in revenue mobilization drive", Mr. Amoah pointed out.
To him, COPECGH is very worried about the tax component of deregulation, explaining that, "The ex-refinery price is currently around GHS1.64-1.70. The tax component alone is GHS1.50 there about, almost the same as the ex-refinery price. The consumer is suffering.
With high taxes on petroleum, the moment crude oil prices start going up on the international market, government will continue to rake in more, while the consumer is expected to pay more. Because it is deregulated market governments, do not set prices anymore for OMCs. It means that those of us at the end of the triangular chain, the consuming public, not only disadvantaged but sitting on tenterhook in that you wake up one morning and pump prices are going up, you ask for a reason and they tell you world markets prices have gone up.
They have gone up because when you bring the crude products into the country, after paying the excise duty, road fund and all the others, government still charges you with 17.5 SPD. And because it is a variant tax, the moment world market prices goes up, the quantum or amount of that tax also goes up. There is a correlation effect and that has negative effect on the consuming public".
According to him, there is still the stabilization margin in the price build up for petroleum products, meanwhile, under deregulations government is not paying any such difference margins to the service providers because government cannot pay for any under recoveries.
He said so whether OMCs or BDCs make gains or losses that is their own headache, and therefore queried what government is using the stabilization fund for?
Mr. Amoah pointed out that political parties are contesting for power to give the citizenry better living condition and therefore "We want all political parties to come out clearly to tell us how they intend to address this major concern".
---
Be the first to know when we publish an update