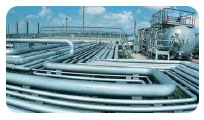 NNPC Restores Ruptured Gas Pipeline

The Transmission Company of Nigeria (TCN) has said gas supply to generating stations had built up gradually after the Nigeria National Petroleum Corporation (NNPC) restored a ruptured pipeline. General Manager, Public Affairs of TCN, Ndidi Mbah, who made this known in a statement on Tuesday in Lagos, said that within a day power supply would be restored to normal.
She explained that an indication that gas supply had improved was the increase in power generation into the National Grid to 3,876.9 Megawatts as at 17.00hrs on Monday, as reported by National Control Centre (NCC).
Mbah said, "TCN wishes to use this opportunity to commend NNPC, especially Nigerian Gas Corporation (NGC) for the quick intervention. "The company also appreciates the Ministry of Power, Generation Companies (GENCOs), Distribution Companies (DISCOs) and electricity customers for their cooperation during the crises period," she said. According to Mbah, as soon as the gas build-up is completed, the affected generating stations would resume normal generation into the National Grid. She said through the implementation of Transmission Rehabilitation and Expansion Programme, TCN was building new substations as well as upgrading existing ones and transmission lines all over the country.
"This is expected to further stabilise the Grid and also put necessary flexibility and redundancy in line with N-1 capacity.
"TCN will continue to count on all Nigerians for support and understanding as it continues to expand the nations' grid," she said.
TCN had said on June 15, that rupture of a major NGC pipeline had scuttled the delivery of gas to six power plants. It said this led to a drop in power generation by 1,087 megawatts and compelled the company to embark on load-shedding. It stated that the load-shedding was adopted to maintain stability of the national grid, thus avoiding total power system collapse. The affected power stations included Ihovbor, Azura, Omotosho gas, Geregu gas, Olorunsogo gas, Sapele and Egbin Power Station, which has managed to generate 60MW only on each of its units, losing a total of 211MW.
Also, Afam VI power station was shut down to enable Shell resolve its gas well issues and commence gas supply to Afam VI power station.
---
Get more news like this directly in your inbox