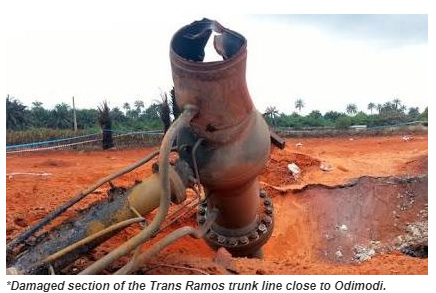 The Shell Petroleum Development Company of Nigeria Limited (SPDC) has confirmed four leak points on its 24" Trans Ramos Pipeline in the swamps of Western Niger Delta, said a statement by a spokesperson for the company on Friday.
According to the statement, as soon as the leaks were noticed on April 24, SPDC immediately shut down production, deployed containment booms and mobilised its oil spill response teams to clean the sites. These measures, which are according to SPDC's standard operating procedures, successfully stopped and contained the spill.
"In line with Nigerian oil and gas industry regulations, a Joint Investigation Visit (JIV) team comprising security and regulatory agencies as well as community representatives and SPDC personnel was constituted and deployed in the sites," the statement added.
The JIV team confirmed four leak points on the pipeline and identified the impacted areas in Odimodi community.
Meanwhile, the cause of the leaks is yet to be determined as SPDC is said to be working on further site preparation and mobilisation of specialised equipment to the swamps for safe excavation of the pipeline for inspection.
The JIV team is expected to return to the sites as soon as possible to complete the investigation process.