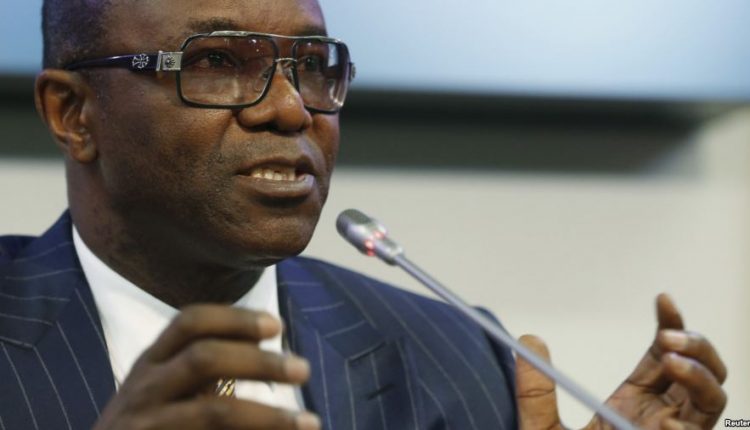 Nigeria set to jettison stalled oil projects to cut costs

Nigeria's Federal Government, yesterday, said that it would jettison some planned and ongoing oil and gas projects in the country if the unit price of crude oil for such projects fails to hit a set threshold. The Federal Government put the threshold at $20 per barrel.
Minister of State for Petroleum Resources and group Managing Director of  Nigerian National Petroleum Corporation, NNPC, Dr Ibe Kachikwu, made this disclosure at a briefing in Abuja to announce the forthcoming African Petroleum Producers Association's, APPA, 6th Africa Petroleum Congress and Exhibition (CAPE VI) to be hosted by Nigeria between March 15 and 17, 2016.
Some of the oil and gas projects that had been stalled include the $20 billion Brass Liquefied Natural Gas (LNG) project, Olokola LNG, Train 7 of the Nigeria LNG; the $3 billion Funiwa gas project, the multi-billion dollar Nsikko project, Satellite field II, Bonga South West and various pipeline projects among others.
According to Kachikwu, who is also the President of APPA, the Federal Government is engaging with oil majors and other stakeholders and it is being very astute in terms of asset management to trim down costs, adding that it is becoming a bit more preferential in terms of cost, driving the investments that it makes going forward.
He said: "Not all projects that are on the table would see the light of day. If the unit price of oil for such project does not come below a certain threshold, and the sort of threshold we try to set is that below the $20 per barrel mark.
"Quite a lot of production is within the $14 – $15 mark, and those naturally, Joint Venture acreages, but as you go into the Production Sharing Contracts, PSC, they sort of climb and the challenge would be how do you continue those projects, if, ultimately, the price of oil does not justify that?"
Speaking with a common voice
He emphasised the need for oil producing African countries to collaborate and speak with a common voice in pushing forward their interests and agenda and also make significant impact in the quest to ensure stability in the global oil industry.
According to Kachikwu, APPA needs to meet more often, strategise more often and speak with one voice and needs to stop being self-competitive among themselves, adding that effective competition would help bring down costs and help enhance technology.
He said: "You don't go to OPEC meetings and get yourselves all depleted into different factions. We haven't done that as much as we should. If we continue to do that, we are going to see a lot more respect. The general consensus is that Africa has always been seen like a non-aligned group. You have two main warring factions or positions at OPEC meetings and Africa is always a middle layer that everybody cuts. I think we need to do more than just sitting aside that hope for people to cut us; we need to enforce our own position.
"We are probably the poorer members of the group; we are the least developed members of the group, we are probably the ones with the least efficiency in terms of the management of our resources. And so, we need to ask to be able to get more. When prices are tumbling, we hurt probably more than anybody else does, so we need to begin to take that into cognizance in propelling positions for our member countries."
He further stressed that for oil companies and oil producing countries in Africa to survive the period of instability in the industry, prominence should be given to lean and cost-cutting initiatives.
According to him, cutting cost is an efficiency issue, adding that even when you have very high prices, you should be cutting your costs to increase your margins.
He said: "Unknown to all of us, every month that you delay a project, you are adding literally, between two to three per cent of cost to the outlay. So we got to work in such a parallel mix that things are being done sequentially at the same time to be able to bring that sort of cost. It is certainly a focus area for us; we have seen that over the last four months of just looking at the NNPC operations."
"And different from the oil majors cutting costs and we forcing them to do that, our whole operational network, how we manage the oil industry is going to change. It takes something like security, every oil major for example, have their own security apparatus. We need to have an integrated security model; we need to increase on speed. There is always used to be a lap time between what the NCDMB does and what the NNPC does and the effect of that are unnecessary delays in terms of approval process."
---
Be the first to know when we publish an update