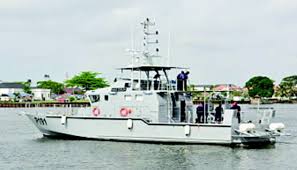 Nigeria Charges Suspected Pirates Under New SPOMO Law
Nigeria will this week commence the prosecution of suspected pirates under the Suppression of Piracy and Other Maritime Offences (SPOMO) Act. During an interactive session with senior journalists in Lagos, Director-General of Nigerian Maritime Administration and Safety Agency (NIMASA), Dr Bashir Jamoh, said Nigeria is determined to rid its waterways of criminals.
OER gathered that the trial of the suspects will be the first under the antipiracy law signed in June last year by President Muhammadu Buhari.
The law made Nigeria the first in West and Central Africa to have a standalone antipiracy legislation. The suspected pirates were arrested by the Nigerian Navy recently, with intelligence support from NIMASA.
Jamoh said Nigeria's waters were now safer for navigation, as the proactive approach of NIMASA to safety and security at sea had started yielding fruits. This is evidenced in the multiple arrests of suspected pirates in the second quarter of the year, he said.
The NIMASA boss said the agency had sent a proposal to the Federal Government on the issue of providing incentives for stakeholders in the maritime sector. Soon, also, the Federal Ministry of Transportation will disburse the Cabotage Vessel Financing Fund (CVFF), he revealed, adding that operators in the industry would soon access the fund.
"Our strategy of nipping piracy in the bud is yielding positive fruit and that is why the Navy and the Police have arrested a total of 27 suspected pirates in the last two months. Our findings have revealed that these criminals work with the cooperation of international allies and that is what makes them sophisticated.
We have set out to tackle them through intelligence gathering and collaboration with relevant stakeholders. Our recent arrests have shown the international community that we are not handling illegalities in our waters with kid gloves," he said.
He expressed delight in the changing international opinion on safety and security in Nigerian waters, as seen in a recent congratulatory letter by the International Maritime Organisation (IMO) to Nigeria for its zeal to make the country's waters safe and secure.
Jamoh also informed that the Nigerian Seafarers Development Programme (NSDP), saying it is being redesigned to make it more effective. He said the maritime sector had the potential to exponentially grow the Nigerian economy, given the enormous flora and fauna in the maritime environment, besides mineral resources and shipping activities.
Chibisi Ohakah, Abuja


---
Get more news like this directly in your inbox