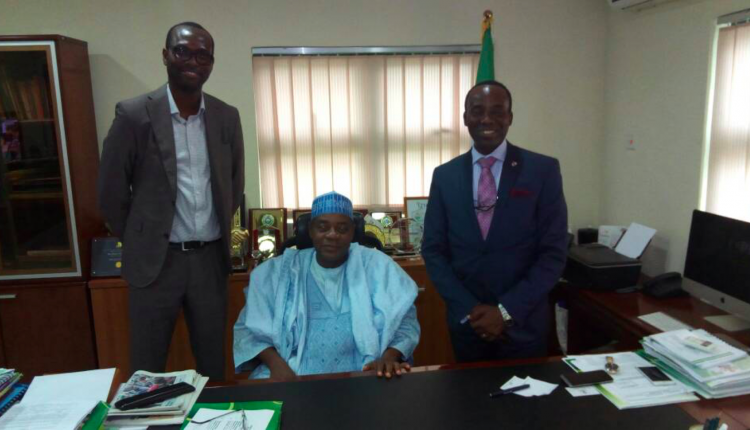 COREN Registration – Calling all UK Chartered (EC UK registered) Engineers.

On Friday, 2nd June, Dr Eberechi Weli (TGNF Coordinator) and Barrister Adegoke Oshunniyi (TGNF Programmes Manager) paid a courtesy visit to the President of the Council for Regulation of Engineering in Nigeria (COREN) at the COREN Headquarters in Abuja.
The visit was to seek collaborative working arrangements between TGNF and COREN to facilitate and support TGNF members (Diaspora Engineering Professionals) through registration as Engineers in Nigeria thereby demystifying the registration process.
Outcome – The COREN Registration panel will be held in July. All TGNF UK Chartered Engineers who are interested in registration in Nigeria (and practice as registered engineers in Nigeria) can take the following steps to achieving "Engineer" designations in Nigeria.
Complete the COREN online registration
 Send your name and details/reference to TGNF via [email protected] by 27th June, 2017.
TGNF will collate the list and present to the President for approval at the next Registration Panel meeting in July.
TGNF is also providing a number of our COREN Registered Engineers as Proposers if required. Please contact [email protected] or Dr Eberechi Weli ([email protected]) for more information/guidance.
Background Information:
The Council for the Regulation of Engineering in Nigeria was established by decree 55 of 1970 and amended by Decree 27 of 1992, now the "Engineers (Registration, etc.) Act, CAP E11 of 2004" Law of the Federal Republic of Nigeria.
Engr. Kashim Abdul Ali, President of COREN, is a Registered Engineer, Fellow and Past President of the Nigerian Society of Engineers and Member of the National Institute.
Accelerated Path To Become Registered To The Council for The Regulation of Engineering in Nigeria (COREN)
Nigerians in the diaspora and those who have registered with TGNF and are interested in registering with COREN Nigeria. WE HAVE GOOD NEWS FOR YOU!!!, from the COREN President as a good will gesture, exclusive only to TGNF members. An opportunity has arisen for a fast track registration to become a member of the NSE and as COREN registered Engineers in Nigeria.
Please kindly Look at the Following Requirements and Steps in Regards to the Registration:
Candidates must be chartered with any of the UK engineering institutions.
Chartered engineers in the UK, please proceed to the following link and download the COREN Proposal Form: http://www.coren.gov.ng/download/category/12-others
Complete your COREN online application, please download the form in step 2, and forward your name and form to the following email addresses; [email protected] and [email protected] , who will then help you with completing your COREN Proposal Form, without which you cannot complete your online COREN application.
Follow the link to the Online Application Instruction after your COREN Proposal Form is completed by volunteer Proposers in our team and they will send the form back to you: https://portal.coren.gov.ng/Account/Register
Once you have completed your online application, please forward your automated online generated COREN number to the emails above, so you can be enrolled into the July batch of approved COREN Engineers.
To Register visit: http//www.globalnigeriaforum.com
For any inquires, send an email to [email protected]
For more info on Twitter:Global Nigeria Forum @TGN_Forum
On Facebook: The Global Nigeria Forum
---
Get more news like this directly in your inbox