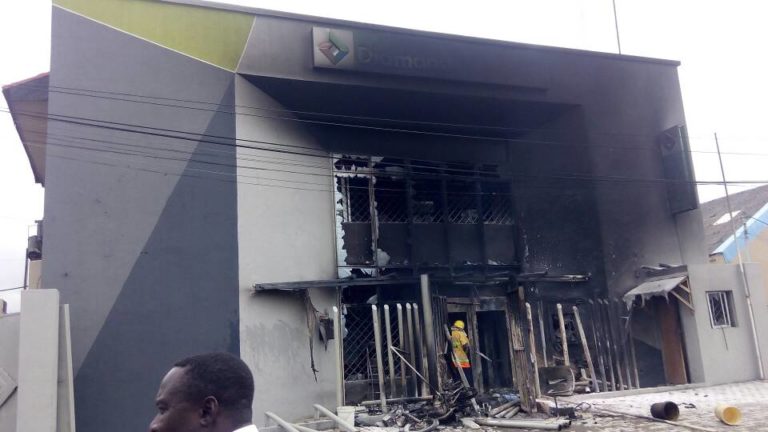 Oge Obi
Two banks at different locations in Apapa area of Lagos State have been set ablaze by irate mob protesting the killing of a truck driver by a policeman attached to the Diamond Bank Plc on River Pool Road, Apapa.
According to eye witness, trouble started when the late trailer driver wanted to park in front of the Diamond Bank and was prevented by some policemen attached to the bank. And argument was said to have ensued leading to one of the policemen pulling the trigger and killing the driver in the process.
Learning about the death of their colleagues, truck drivers mobilised and stormed the bank demanding the release of the policeman to them. It was learnt that the bank's refusal to hand over the policeman saw the protestors set the bank on fire. As if that was not enough, the mob who went on rampage destroying everything in sight also torched Sterling Bank branch at the end of Burma Road.
The situation which created pandemonium along Point Road/River Pool area of Apapa – the premises of the affected Diamond Bank this morning, saw staff of the banks scamper for safety as they make calls to different security agencies for their intervention.
The development which created panic in the area saw banks, corporate organisation and traders close shop as they fear being attacked by the mob.
According to Chairman, Association of Maritime Truck Owners (AMATO), Chief Remi Ogungbemi who confirmed the incident to journalists as at the time of filing this report that the situation has been brought under control.
"The situation is under calm and the police are on top of the situation. I have told my members to calm down because they cannot use wrong to correct wrong, he said.
However Orient Energy Review confirmed that Policemen from Rapid Response Squad, anti-riot squad and Area B command, as well as operatives from the Nigerian Navy Ship BEECEOFT have been deployed to the scene of the incident.