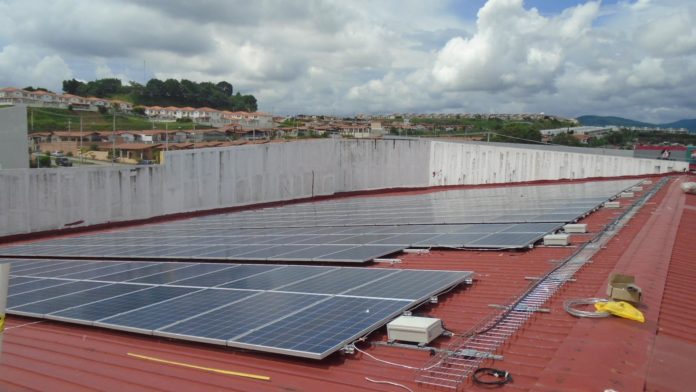 Akpoyibo Green Foundation Takes 'ONE-child-one-solar-lantern' campaign to school

Oge Obi
The Akpoyibo Green Foundation (AGF) in its effort to further spread the Foundation's message as well as reach out to the right audience with it's renewable energy awareness, celebrated the 2018 Children's Day with the pupils of Akugbene Grammar School in Akugbene.
Akugbene, an off-grid community in Patani Local Government Area of the Delta State had a memorable Children's Day celebration as they were feted and empowered with individual solar reading lamps by the Foundation. The school as well as their teachers were educated on the hazards of using kerosene lanterns and paraffin lamps aka Atukpa in local parlance.
Flagging off the Foundation's 'ONE-child-one-solar-lantern' campaign in the school, the Akugbene community was also not left out as they were enlightened on how solar solutions can aid educational growth and excellence.
In her speech, the General Manager of AGF, Mrs. Tracy Atagaryen said that the launch is just one of the many campaigns the Foundation has embarked on to reach out to the rural communities.
According to the General Manager, the Foundation is a community-focused charity organisation with the aim of entrenching renewable energy awareness and eradicating energy poverty in rural communities in nigeria.
Stating that over the years, the Foundation has donated solar reading lanterns to children, solar home solutions to the elderly and disadvantaged, and energy saving devices to market women and traders. She thanked the community for their cooperation all those who supported the foundation towards ensuring the success of the campaign.
Among dignitaries that graced the occasion were Honourable Nicholas Mutu, a Member of the House of Representatives, representing Bomadi/Patani Federal Constituency; Nollywood stars like Chunks Chyke and Ruth Kadiri as well as distinguished leaders of the community.
The children in appreciation made glowing speeches, thanked AGF for their kind gesture and posed severally with their new solar lanterns.
---
Get more news like this directly in your inbox