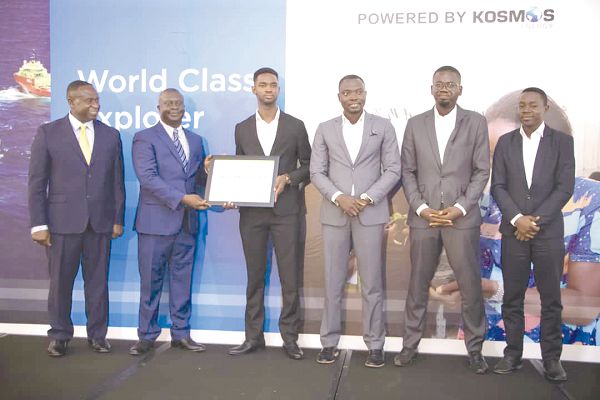 Kosmos Awards US100,000 To Entrepreneurs

Kosmos Energy Ghana has awarded the sum of US$50,000 each to two entrepreneurs – AI Scarecrow and ProSect Feed, plus one-year incubation at the just inaugurated KIC Incubator, as part of the company's AgriTech challenge.
The KIC AgriTech Challenge is Kosmos Energy's flagship social investment program supporting young entrepreneurs to become business leaders, able to fuel Ghana's growth and create jobs in the agricultural sector. This year marks the fourth time the program has run, delivering on Kosmos Energy's mission to invest in Ghana's future, one entrepreneur at a time.
With farmers in Ghana losing up to 20% of their potential yield to bird pests, AI Scarecrow invented a technology to use natural predatory signals to scare birds away from crops
ProSect Feed, on the other hand, developed an innovative chicken feed made entirely from dried insects.
The KIC AgriTech Challenge places young people with drive and ambition on an intensive 10-month capacity building process. It equips them with the skills and contacts needed to start a business, and includes market research tours, expert knowledge exchanges, training in specific business skills and three pitches, with only the best teams selected to move on to the next stage of the competition at each point.
Through the KIC, Kosmos is nurturing the next generation of entrepreneurs and encouraging innovation in sectors beyond oil and gas, with the goal of contributing to a healthier and more diverse economy.
The nine other business teams who reached the final will also receive a one-year business support package at the Incubator. The businesses will all benefit from ongoing coaching, mentoring and training to ensure they are able to grow and scale up.
Mr. Joe Mensah, Senior Vice President and Head of the Ghana Unit at Kosmos Energy said: "Our youth-led businesses are spread across the entire agricultural value chain – from increasing yields for farmers to getting products on to our dinner tables.
"Today we are adding 11 more businesses to the KIC Incubator, helping them go on to tackle some of the most critical challenges in the sector, create jobs and achieve food sustainability for Ghana.
"As a company that knows what it's like to be a startup, follow a dream and build a business, we are humbled by the opportunity to leverage our skills to support and develop our host countries."
About the KIC Incubator
The KIC Incubator is an utra-modern office complex that serves as an incubator for talented start-ups and provide them with the support they needed to see opportunities others miss, pursue their dreams, and build dynamic businesses.
The KIC Incubator, which can house up to 25 startups, has a total space area of 3,053 square metres, with provision for serious work, serenity and leisure. It can seat 80 desks for entrepreneurs, has five convertible meetings and training rooms.
The KIC Incubator Management Platform allows the companies to schedule sessions with coaches and mentors, receive feedback directly on the platform, input data metrics at regular intervals, analyze data trends relevant to their businesses, search for people in the platform by skills, and see upcoming training or events.
According to Mr. Andy Inglis, Chairman and CEO of Kosmos Energy, "The Kosmos Innovation Incubator is a symbol of Kosmos' commitment to being a force for good, creating a positive legacy beyond our core business. Many years from now, I want to be remembered not just as the company that discovered commercial oil offshore, but as a true partner of the country that did its part to create economic opportunity and drive social progress".
Gilbert Borketey Boyefio
---
Get more news like this directly in your inbox