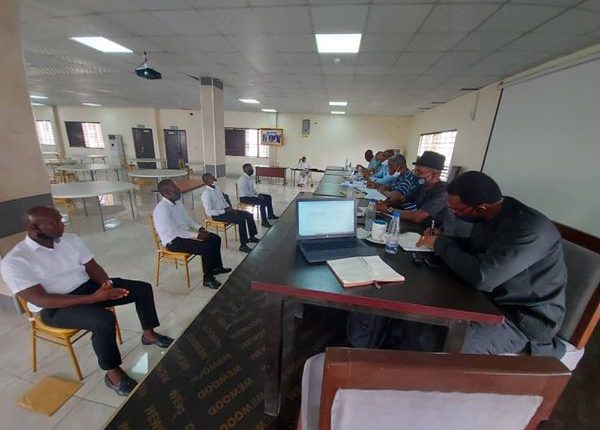 60 Candidates Write Aptitude Test for NCDMB's Cadet Training

Sixty candidates at the weekend participated in the Aptitude test conducted by the Nigerian Content Development and Monitoring Board (NCDMB) for the second phase of its Cadet Training Programme.
The selection test which comprises of aptitude tests and interviews held at Charkin Maritime and Offshore Safety Limited, PortHarcourt, Rivers State.
According to the Board, the 60 candidates who participated in the test were nominated from the Nigerian Content Joint Qualification System (NOGICJQS) – the oil and gas industry repository for skills and capacities. Adding that the nominees are graduates of Marine Engineering and Nautical Sciences.
The NCDMB however, hinted that 40 candidates would be selected at the end of the interview session to participate in the Sea-time training programme.
The Board in a statement at the weekend said, "detailed skill gap analysis conducted by the Board had revealed that most young Nigerian seafarers, some of whom were trained at maritime schools in Nigeria, still lacked the mandatory one year sea-time experience, partly because of the prohibitive cost of the programme, in the region of US$20,000-US$30,000 per candidate."
It, therefore, identified lack of requisite qualification as a major challenge debarring many Nigerian seafarers from being considered for some available job opportunities thereby paving way for the engagement of expatriates on oil and gas vessels.
The Board hinted that the programme was conceived to address a yawning skill gap in the existing Nigerian seafarers training programme, the Board explained.
"The lack of the requite qualification disqualified many Nigerian seafarers from securing employments, thus perpetuating the engagement of expatriates on oil and gas vessels.
"So far NCDMB has trained 20 cadets on Bernard schulte's ship across the world in the phase 1, in partnership with Charkin Maritime and Offshore Safety Limited and the latest selection test is for the Phase2 of the programme," the statement by NCDMB read in part.
In 2019, the Board engaged Messrs Charkin to provide Practical Sea-Time for 20 Nigerian Cadets on -board Foreign Going vessels.
Peace Obi
---
Be the first to know when we publish an update