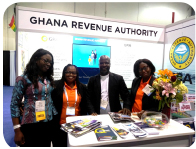 GHANAIAN COMPANIES DEBUT @ OTC 2018
Offshore Technology Conference 2018 had a new exhibiting nation, Ghana. Ghana has been participating in OTC conferences since the commercial discovery of oil for the past 10 years, but for the first time; there were over 250 delegates and exhibitors. The participants were led by Energy Minister Boakye Agyarko, accompanied by two of his deputies — Mohammed Amin Anta and Joseph Cudjoe.
Also in attendance were most of the agencies under the Energy Ministry along with some private entities. These companies were KOSMOS Energy, Ghana National Petroleum Company, Tullow Ghana Limited, Springfield E&P, the Ministry of Energy (and its agencies), Greenline Logistics, Ecoalpha Services (in partnership with the Aviation Company Seeker), Exceed Well Management Ghana, Seaweld Engineering, Advantage Group, Ghana Revenue Authority, Ghana Oil and Gas Service Providers Association, Woodfields Group, I-Neema and Conship.
Orient Energy Review met with some of the participants and below are excerpts from its interview with Alfred Fafali Adagbedu, the Managing Director of Seaweld Engineering, an indigenous company which has grown to become a global brand.
---
Get more news like this directly in your inbox